Fizz to die for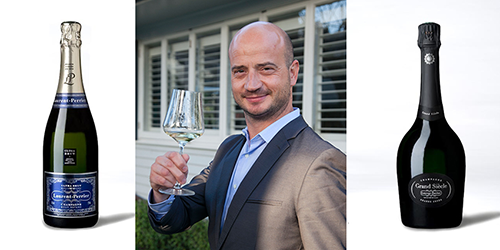 Jean-Sébastian Boileau (pictured), Regional Export Director of Champagne Laurent Perrier dropped by with an armful of bottles to show me the latest wines from his company.
Laurent Perrier, he explained, place a strong emphasis on non-vintage wines, which they feel offer consistency and are able to express their house style more effectively. Of the six wines I tasted only one was a vintage champagne. Even their prestige label, Grand Siecle, is a blended wine, although Boileau referred to it as a "multi-vintage" wine – how French is that! Boileau said that they typically produce a vintage wine one year in two, which is very conservative by champagne standards.
I asked about the current trends in champagne styles and sales. He told me that there is a trend towards Blanc de Blancs in the "mature market" (western Europe) and solid growth in Demi-Sec styles in the developing market (South America, South Africa and Asia).
Champagne prices are reasonably "fluid" he explained when I asked for recommended retail prices for his wines. That's certainly the case I discovered when I used wine searcher to find a local price for Laurent-Perrier Brut, which ranged from $59.90 (Fine Wine Delivery Company) to $117.90 (Wine Circle, Huapai). It pays to shop around, especially during the festive season.
The wines showed well. My two favourites were the Ultra Brut and Grand Siecle. Ultra Brut is made, as the name suggests, with zero dosage. I found it to be very pure and taut, but not austere. Made from 97% Grand Cru grapes, it's a 50/50 blend of Chardonnay and Pinot Noir that spends five years on the lees. I was given a retail price of $119, but Wine Searcher revealed that the Village Winery in Auckland are selling it for $114.99 while The Fine Wine Delivery Company offer it at $151.99.
The "multi-vintage" Grand Siecle I tasted was a blend of Grand Cru Chardonnay (90%) and Pinot Noir (10%) from the vintages 1997, 1999 and 2000. It has surprising freshness for a wine that has spent a long time en tirage and a great, almost ethereal texture. This is seriously good champagne, and so it should be at a price of $228.99 from The Fine Wine Delivery Company or $319.99 from Centre City Wines and Spirits in Auckland.