What do you match with an old bottle of red?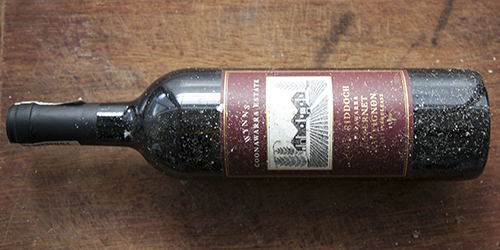 I was asked that question by a student recently. He had been given a bottle of Wynns John Riddoch Cabernet Sauvignon (tastings) that had been comfortably resting under his house for nearly 20 years. The friend who had given him the bottle was coming to dinner the following weekend and he wanted to open the bottle with a dish that would enhance its character.
My favourite match for aged red is slow-cooked lamb. Lamb shanks work well, but I have a Jamie Oliver recipe for lamb shoulder, a relatively cheap cut of meat, that I think works even better.
Simply sprinkle a few crushed garlic cloves, some sprigs of rosemary, salt, pepper and olive oil onto the bottom of a roasting dish. Place the lamb in the dish. Sprinkle it with garlic cloves, rosemary, salt, pepper and olive oil and wrap the pan with two layers of aluminium foil.
Put the oven on maximum heat and place the pan into the oven before turning it down to 180oC. My oven heats very slowly and the dish doesn't seem to suffer if I don't let it heat to the max.
Leave it for 3-4 hours before serving with roast vegetables (shallots are essential).
The rich savoury flavours of the meat marry beautifully with bottle-aged characters of an old red, especially Cabernet Sauvignon or a Bordeaux blend. The wine and the dish both maintain their flavour integrity while flattering each other. I'm salivating as I write this and have decided exactly what I'm going to cook for dinner tonight.