Firedoor
By Guy Griffin
I've written a few love letters to open-fire cooking over the years. My ardour hasn't cooled but I'll 'fess up to having been let down by love more than once. Not all baby back ribs with dry-rub seasoning are created equal. Not every Southern-fried chicken with biscuits and gravy trips my trigger. From Chattanooga to Chippendale, I've had my fingers burnt by overcooked hog and under-smoked brisket.
Firedoor is Lennox Hastie's and the Fink Group's long-awaited asador in Surry Hills. Hastie has been given a free hand to indulge his high-minded commitment to working only with the pure element of fire. The passwords to his Druidic wood-lined room behind a pneumatic sliding door on Mary Street are flame, wood smoke, meat, native aromatics and fat.
The chef's back story includes a five-year stint alongside grill guru Victor Arguinzoniz at Extebarri, a restaurant in the remote village of Axpe in Spain's Basque region. It's a temple of flames with a cult following among Australian chefs and gastronauts. The humble Arguinzoniz is famed for his innovative grilling contraptions, the wide range of aromatic charcoals he uses and for a menu of smoked everything: from goat's milk butter to sea cucumber to ice-cream, with lots of Galician beef and shellfish along the way.
On the two occasions I've visited Firedoor, it was an easy walk-in; but admittedly it was early or late in the evening. Better to plan a week ahead if you want to enjoy Sydney's most in-demand (I refuse to say 'hottest') restaurant at the most in-demand dining hours.
A well-made gin martini at barkeep Phil McElroy's long bar is a good start, but I've been a bit nonplussed tonight by the near-total absence of something like a bar snack to get our tastebuds busy. Sure there are olives if you ask, but I already have two of those in my glass, so we've chosen small items from the menu: a jersey cream curd with a suspicion of smokiness, and house-pickled vegetables. Nice, unexciting. Then a couple of prawns off the griddle and slices of Ulladulla swordfish belly served rare and smoky. All good.
We're moved to a pair of seats at the counter in front of the open kitchen. Not a gas ring or immersion top in sight here, just two radiant wood-fired ovens, four grills and a locally-made Aga, each consuming chords of firewood that burn like the clappers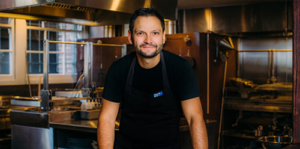 (Lennox Hastie)
A kitchen crewmember plucks a live marron from the tank and slays the handsome critter humanely in front of us ("Oh, it might have been his birthday" my dining pal says wistfully). It's grilled in the shell, over fragrant applewood , served with finger lime 'caviar' and a native spinach-like vegetable Compellingly simple, the marron's protein is just set, its flavour sweet and direct. The lime caviar is a refreshing citrus zap.
Then, a roasted fillet of gurnard (an underappreciated, tasty, white-fleshed fish) with sautéed rapa and Jerusalem artichoke puree that sings of the subtle interplay of flame, wood, smoke and vegetable. No fireworks here, but simple integrity. Ditto for perfectly cooked and carved, slightly under-flavoured aged lamb rump cap, with a side of borlotti beans, pecans and delicious crunchy lardons of guanciale.
Firedoor's wine list is a high point in our visit. Wine program curator Ned Goodwin MW has organised the wines by weight: a helpful formula which everyone will appreciate. There are plenty of traditional and good value Spanish and French wines here, but many surprises too. Goodwin has travelled some interesting byways to find an amazing Luke Lambert Crudo rosé, a very Burgundian Hochkirch organic pinot noir from Victoria and a rare Chateau Simone from the micro-sized Palette appellation in France's south.
Yes, it has to be said, with some parts of the Firedoor experience you'll need to manage your own expectations. There's sticker shock with the $97 steak. Even if I told you it was Angus beef rib on the bone, priced at $156 a kilogram from O'Connor in Gippsland, dry-aged for 150 days, cut to order with a band saw and grilled over grapevines, I suspect some grouches will say they could enjoy a BBQ at home for a fraction of the cost. Others might not be overly whelmed by the banana ice cream, smoked ganache and wild honeycomb. Some true curmudgeons might find the Firedoor journey unexpectedly anodyne.
And I'd probably respond with "whatevuh". Sure Firedoor isn't – won't be – for everyone. It's no Alpha male surf 'n turf fest. No dumbed-down boneless chicken ranch. There's already enough of those around town. It's a long way too, from the roll-your-sleeves-up rhapsody of tearing flesh, that is Porteño or LP Quality Meats.
No, Firedoor is somewhere with a different kind of pulse. It's a love letter to a certain idea of radical simplicity, in search of a certain kind of diner. And we all know that love is a high-risk venture.
Address: 23-33 Mary Street, Surry Hills
Phone: 02 8204 0800
Web: www. firedoor.com.au
Open: Monday — Thursday
Lunch: Friday noon-2.30pm. Dinner: Tues-Sat 5.30-10pm
Price: E: $6-$23; M: $32-$97; D: $16-$27
Rating: 14.5 /20
How good was the food? 3.5 /5 What was the service like? 5 /5
Did the atmosphere work? 3 /5 Is there an X Factor about this place? 3/5
*Firedoor & Lennox Hastie Images by Nikki To