Port Tongs party piece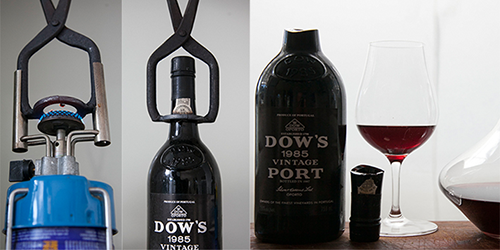 Many years ago I got the port bug. My fixation was vintage port. If it didn't come from Portugal it wasn't port in my book. I also acquired a set of port tongs, an indispensable piece of equipment for anyone who enjoys drinking old port.
When you uncork a bottle of wine, the sides of the cork taper inwards at the neck end of the bottle. That bottle design feature helps keep the cork in place when warm temperatures expand wine volume and threaten to force the cork out of the bottle. Because vintage port should be held for at least 15 years (my rule) before opening, port bottles have an even more steeply tapered inner neck. After due bottle age it is difficult to extract an intact cork from a bottle of vintage port. That's why port tongs were invented.
As you can see from the illustration (my photos by the way – I was quite pleased with the result) port tongs should be heated until red hot. You can put them in the fire, but I use butane gas and a holder designed for the tongs. Once the tongs are red hot, you simply clamp the tongs around the neck and squeeze tightly for 10 seconds or so. Then wrap a damp dishcloth (Christies now retired wine auctioneer, Michael Broadbent, uses a wet goose feather) around the neck. The neck should give a slight "click" allowing it to be lifted off the bottle complete with cork.
It's a great way to end a dinner party.