Tulloch family celebrates 120 years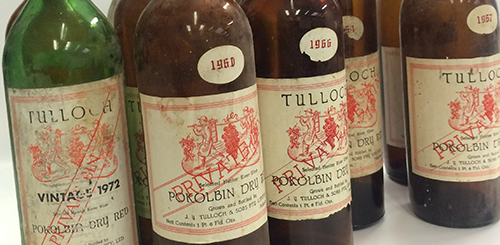 I was honoured to be one of the guests invited to share the Tulloch family's 120th anniversary celebration last week, with a tasting that stretched back to a magnificent 1952 Tulloch Private Bin Pokolbin Dry Red.
This is a family with a story that proves that phoenixes definitely can rise from the ashes. The J.Y. Tulloch winery was established in 1895 when John Younie Tulloch, then a storekeeper in Branxton, accepted a Pokolbin property with vines on it as payment of a customer's debt. Through the '40s, '50s and '60s J.Y.'s son Hector built the business into a thriving and highly regarded family winery until the family decided to sell in 1969.
While the then 25 year-old grandson of the founder, J.Y. 'Jay' Tulloch, was retained in the management team, the ownership was punted around like a football with five owners between 1969 and 2001, when the family was able to buy the brand-name and trademarks back. Tulloch (tastings) is now run by Jay's youngest daughter Christina, the fourth generation Tulloch to manage the business, and it is once again thriving.
While the wine quality wavered somewhat under the sometimes uncaring corporate ownership, as did the marketing effort, both are now back on track. Tulloch is again in the Hunter Valley's top echelon.
The anniversary tasting was hosted by Jay and Christina and their winemakers, Patrick Auld (1974 – 2000) and Liz Jackson (from 2009). The line-up included 19 vintages of the flagship red, Tulloch Hector Limited Release Shiraz, and 25 of Tulloch Private Bin Pokolbin Dry Red Shiraz (1952-2014 – previous tastings). The quality of these wines was impressive. The famous 1954 Private Bin was still in fine fettle but the '52, from a less-feted vintage, was also very good, providing one of the surprises of the tasting. And the 2009s, '11s and '14s are arguably the best yet. My complete tasting notes will be posted in the coming weeks.