Wine in the movies: Raising a glass to the big screen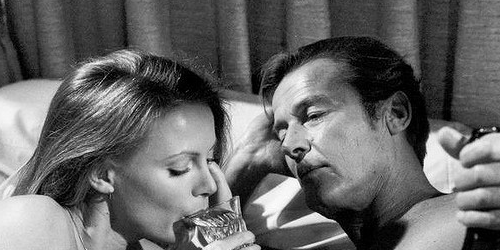 Wine is seldom a sufficiently interesting subject to devote an entire movie to it, and when it does happen, it's often a disaster. Witness the witless A Walk In the Clouds, set in the Napa Valley, and Bottle Shock, also about Californian wine.
But there are wine-movies that become legendary, such as Sideways – which actually got the wine stuff right, and was entertaining and amusing cinema. There are documentaries too, none more controversial that Mondovino, and none more thought-provoking than Red Obsession. Relatively recently, You Will Be My Son (2011) was a good story with a credible script, set in a real French winery.
But movies in which wine plays a bit-part are often memorable for wine-lovers too, and who could forget The Silence of the Lambs in which Anthony Hopkins, unnervingly convincing as Hannibal Lecter, tells agent Clarice Starling how he dished up a human liver with fava beans accompanied by a carefully selected Chianti? Neither wine nor liver are actually seen, but the aromas linger in the memory.
Now, Sydney-based film-maker, wine producer and occasional wine writer David Roe, a descendant of the founder of Sandalford winery (tastings), John Septimus Roe, is developing an interesting line in vinous cinematic memorabilia. Last week, for the third time, he screened his novel wine, food and movie entertainment which he calls "Gone With The Wine". It was first staged in March at Prince Wine Store, and repeated there last Wednesday.
Roe has taken grabs from famous films stretching back to the 1920s, in which wine makes a noteworthy appearance. There is, for example, a wonderful scene in Roger Corman's 1962 low-budget adaptation of Edgar Allan Poe's Tales Of Terror in which Vincent Price and Peter Lorre compete in a blind tasting game, each trying to outdo the other in identifying various wines. It's not only amusing, it skewers the pretension that surrounds wine tasting, a sport which will never date (it could also be a tribute to the age of over-acting!).
Another timeless piece of cinema, which will resonate with contemporary restaurant-goers, is The Muppet Movie, in which a sommelier (Steve Martin) gives a romantic dining couple (Miss Piggy and Kermit The Frog) the full treatment, but ends up being the butt of the joke. It was made in 1979, but could easily have been 2015.
Roe knows his cinema, and must have spent many hours in front of a screen compiling Gone With The Wine, which includes grabs from no less than 18 movies. In last week's screening at Prince Wine Store, Zetland, food and wines were served which linked with the action on-screen. The food was prepared by chef Sebastian Tyson, of Bar Martino.
The idea was to give the audience a taste of the wines used in the films, such as Napa cabernet sauvignon with the over-the-top wine-centric soap opera This Earth Is Mine (1959), Pommard – because it was Alfred Hitchcock's McGuffin (plot device) in Notorious (1946), and Gigondas because that's what Maggie Smith and Kevin Kline swilled in last year's comedy-drama My Old Lady. The film clips are woven together with live narrative by Roe.
Not all the clips are as startling as Silence Of The Lambs or Hitchcock. One of my favourites was from a quiet black-and-white 1966 film, Falling Leaves/Giorgobistve. This is a political satire which employs winemaking in Soviet Georgia to – as Roe puts it – "make its case that corruption is the only way to get by in an economic system that works one way in theory and another in practice". The director was Otar Ioselliani. Other clips are taken from Alfred Hitchcock's 1928 film Champagne, and classics like Casablanca, Notorious, Gigi, Goldfinger – and of course Silence Of The Lambs and Sideways.
Product placement is one way wine has long been seen in movies, and there is no more famous example than Bollinger (tastings) in James Bond. Before Bollinger, there was Dom Perignon (tastings), which was not a paid product placement but was there simply to enhance the image of Bond as a stylish, cultured gent. Roe says he included some Bond footage because 'everyone always asks'. The segment is taken from Goldfinger (1964) and Roe says he chose it partly because Sean Connery drops three double entendres in 30 seconds! Roe also theorises that the Bond films of the era unwittingly mirrored the quality of the Dom Perignon vintages: 1953 in Goldfinger and Dr No (very good), 1955 and Thunderball (so-so), 1957 and On Her Majesty's Secret Service (terrible).
Wine was used in the early days of cinema to signify the sexual availability of women, and in 1962's Lover Come Back, Doris Day is in the frame, while in Hitchcock's 1946 masterpiece of sexual politics, Notorious, Ingrid Bergman and Cary Grant ('the George Clooney of his day') manoeuvre around bottles of Pommard in a cellar.
We also see Orson Welles in Chimes At Midnight (1965), Julianne Moore and Annette Bening in The Kids Are All Right (2010), Rock Hudson in This Earth Is Mine (1959) and Humphrey Bogart with Bergman in Casablanca (1942).
There are several Hitchcock clips, none more appropriate than Champagne (1928), a silent film in which a scene is framed through a champagne glass. Fittingly, the final clip is Goodnight From Alfred Hitchcock: "this concludes the preachment on the evils of drink".
David Roe is a filmmaker and winemaker. His brand is Final Cut (tastings). He has produced or executive produced five motion pictures, including two for Hollywood studios. These include Storyville and The Coca-Cola Kid. He has a Masters in Wine Business from the University of Adelaide and is a regular contributor to Wine Business Magazine.
I suspect there will be more screenings of Gone With The Wine, so if you're interested, ask Prince Wine Store to put you on their emailing list.
---
First published in Sydney Morning Herald, Good Food – 16 Jun 2015.