Ten vintages of The Armagh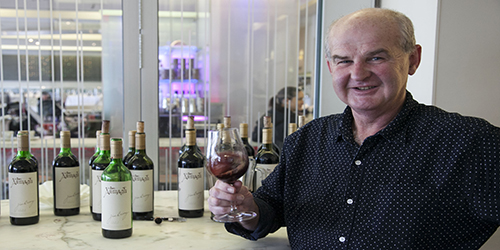 Peter Barry (pictured) came to town to celebrate 30 vintages of Jim Barry The Armagh Shiraz by presenting a vertical of 10 wines from 1989. Armagh has been made every year since 1985 except in 1986, 2003 and 2011.
"Philosophically The Armagh was intended to take on Penfolds Grange (tastings) and Henschke Hill of Grace and was initially priced at around half the price of both", explained Barry. Today it retails in New Zealand for around $250 compared to Hill of Grace at approximately $750 and Grange at $850.
Barry described the wine as "an elephant in a ballerina's shoes" and referred to typical taste descriptors "sweet cherry, plum and an aromatic herbal character – possibly Thyme". Pepper is less common although the wines often have a liquorice or anise quality. He explained that they are able to add 100% pressings to the wine because the tannins are rich and soft, not hard. The grapes are picked when they have lost any "green" flavour. Less wine is made in more challenging vintages to maintain a high level of quality.
One of the style-setting factors is the fact that in their Clare Valley vineyard they get warm days during ripening but cool nights, typically 20oC lower than peak daytime temperatures. That gives good acidity for greater longevity and brighter, fresher flavours.
It was an impressive lineup. A couple of wines were slightly off the pace with random oxidation (all were under cork until 2010 which was under screwcap) but no cork taint was evident. Here are my brief comments and ratings – more detailed notes will be published in the tasting notes section of my website bobcampbell.nz next month. I have added a note about when to drink each vintage, but that will vary with storage conditions and cork variation.
1989 (92 points)
Showing a lot of development and starting to dry out, but with some appealing savoury, Bovril bottle development. Still good drinking although this bottle should have been enjoyed a few years ago. It would have been a blockbuster in its day.
1988 (95 points)
Another very mature wine with chocolate/mocha characters, forest floor but with vestiges of berry fruits. Still hanging in and offering more pleasure than the 1989, but a little past its peak.
1994 (95 points)
Rich, smooth-textured Shiraz that's just a tad fragile but is showing attractive savoury bacon fat, animal, chocolate/mocha, liquorice flavours. Very evolved and probably at its peak right now.
1995 (97 points)
Deep, intense, rich and powerful Shiraz – a classic Armagh that's close to peak but will continue to offer pleasure for some time ahead. A real blockbuster with character and class.
1999 (96 points)
First bottle drying out with a hint of VA. Second bottle much better with strong, bright red and black fruit flavours. And a good, rich tannic structure. Needs time to reach its peak.
2002 (97 points)
Lovely dense, rich and intense Shiraz, with sweet fruit flavours underpinned by soft, chewy tannins. Chocolate/mocha, vanilla, star anise and a hint of Bovril adding extra interest. Attractive and accessible – approaching peak in my view. Lovely wine.
2004 (95 points)
Aromatic Shiraz, with very slightly jammy flavours that somehow managed to retain energy. Plum, dark berry, spice and liquorice flavours. Moderate potential – could surprise with a few more years in bottle.
2006 (96 points)
Dense, rich Shiraz with vibrant spice, plum, chocolate/mocha and vanilla flavours. Mouth-filling fruit is perfectly supported by soft, rich tannins to give a perfect balance. Still youthful, needs time. Seriously good wine with a bright future.
2009 (93 points)
Junior Armagh – quite tight and lighter than average. A warm vintage – a "more masculine" year according to Barry although the description didn't seem to fit the wine in the glass.
2010 (98 points)
Wow! An intense, rich, mouth-filling powerhouse. Big but perfectly formed Shiraz, with appealing layers of red and black fruits together with mixed spice and generous oak characters. Seamless wine with a great future.