2015 vintage down by 27%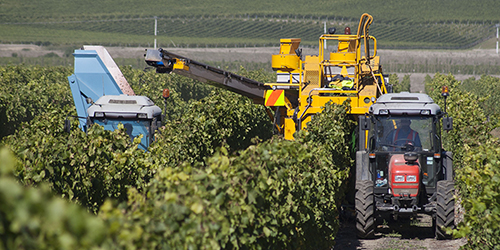 It's been a cracker of a vintage, according to NZ Winegrowers CEO, Philip Gregan, who wrote "we enjoyed a fabulous summer which provided excellent conditions for ripening grapes across the country".
In fact, Gregan probably regards 2015 as a bit of a hat-trick. He wrote of the 2014 vintage "All grapegrowing regions experienced very favourable growing conditions" and also waxed eloquent about the 2013 vintage "An outstanding New Zealand summer provided near perfect conditions for growing grapes across the country".
So much for quality, what about quantity?
A drop of 27% on the previous year's sounds like a pretty serious shortfall. It's not as bad as all that when you consider that 2014 was an unusually large vintage. In the past decade the national average grape yield has been around nine tonnes/ha. In 2014 the yield was a whopping 12.6 tonnes/ha – 40% higher than the average yield in the past 10 years. By my calculation, which assumes a very modest expansion in productive vineyard area, 2015 is only just below the average yield.
The region that experienced the biggest hit in 2015 was Canterbury/Waipara which was down by 51% on the previous years. Marlborough and Wairarapa/Martinborough were in second place, each with a drop of 38%. Hawke's Bay was down by a comparatively modest 19% while Central Otago also escaped lightly with a shortfall of only 14%. Gisborne, up by 6.3%, was the only region to show an increase.
Gewürztraminer, a variety that typically has roller-coaster yields, dropped the most with a 34% decline which moved it down a place to become the nation's eighth most prolific grape variety, while Syrah moved up one place to seventh. Our "big two" grape varieties Sauvignon Blanc and Pinot Noir both dropped by around 30%, which was enough of a fall to move Chardonnay (down by a modest 6.8%, the lowest drop of all) into second place, ahead of Pinot Noir.
The grape variety leader board is now as follows (shows percentage of national grape harvest in 2015)
1. Sauvignon Blanc 68.0% Savvie stumbles from 72.2%
2. Chardonnay 8.6% Up one place
3. Pinot Noir 8.3% Down one place
4. Pinot Gris 6.3% Up from 5.6% last year
5. Merlot 3.0% Up from 2.5%
6. Riesling 1.5% Muddling along
7. Syrah 0.6% Up one place
8. Gewürztraminer 0.5% Down one place
9. Cabernet Sauvignon 0.4% Fairly static