Travelling in Priorat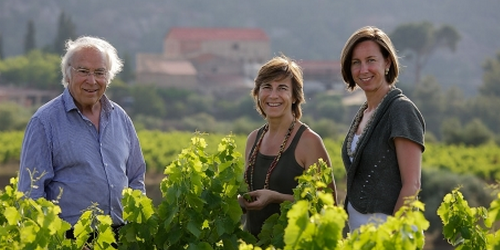 (Left to right: Pere Rovira, Pilar Rovira and Marta Rovira Carbonell)
Standing on her hilltop vantage point Marta Rovira Carbonell says: "On a clear day we can see Spain from here." It's a local joke: this is Catalonia, not Spain, as the locals see it. The separatist movement is alive and well. A huge piece of graffiti on the roadside reads: "Independence for Catalan country: we are and we will be".
Marta's family bought the venerable Mas d'En Gil (tasting) property 19 years ago, and resurrected what was then a run-down business. It has 35 hectares of vines on five sites. Marta is a bit narky that the wine trade outside Catalonia is somewhat anti Catalan wine. "People in Madrid refuse to buy my wines because they are Catalan, and they don't believe good wine can come from Catalunya. There is just one thing I ask for, and that is respect."
Partly as a result, it's no great surprise that many producers export more wine than they sell in Spain. Second to none as an exporter is Alvaro Palacios. He is also the biggest producer of Priorat wine. And his name is like God here. "Alvaro Palacios is the Ferran Adria of Priorat wine. His name is separate and above Priorat wine," says Marta. High praise from a colleague.
Marta is a former aviation industry engineer, and one of a number of female winemakers in Priorat. The Mas d'En Gil winery and house are in the Bellmunt area on a notoriously windy site. The wind helps restrict the growth and yield of the vines. Bellmunt used to be famous for mining, and the old mine workings are still clearly visible.
Eating and drinking:
Priorat doesn't have much in the way of fancy accommodation or flashy restaurants, but there is plenty of good food.
Brots Restaurant, 45 Carrer Nou, Poboleda. Tel: 977 827 328. Chef Pieter is married to the consultant winemaker at Clos Figueres, Silvia Puig. The food is outstanding and highly original; wine list suitably excellent.
Restaurante la Coperativa, 7 Carrer de l'Unió, Porrera. Tel: 977 82 83 78. Informal, inexpensive and friendly with traditional local food and terrific wine list.
Clos Figueres, 38 Carrer de la Font, Gratallops. Tel: 977 83 02 17. Lunch daily; dinner Friday and Saturday. Excellent food; the cellar includes some of owner Christopher Cannan's friends' wines apart from his own. Three tidy, modern rooms upstairs.
Aspic, Falset. I did not eat here but I'm told it's very good and has an excellent wine list.
Hostal Sport, 4-6 Miquel Barcelo, Falset. Tel: 977 83 00 78. Fairly basic but decent food; top-notch wine list. Inexpensive. Accommodation also available.