Ata Rangi Pinot Noir – drinking window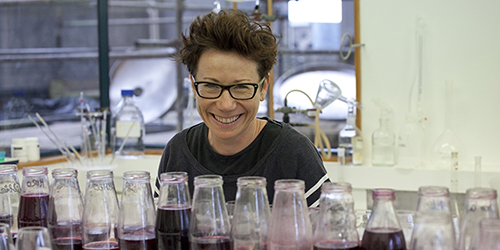 Ata Rangi founder, Clive Paton, and winemaker, Helen Masters (pictured), offered a brilliant vertical tasting of their Pinot Noir from 1999 to 2013. I arrived late and missed out on several wines but was able to taste enough of the range to confirm my belief (supported by many others) that Ata Rangi produce one of the country's greatest wines.
The vertical tasting revealed a consistency of style. Although there was inevitable vintage variation the wines all had the Ata Rangi signature of red fruits with an intriguing savoury edge (perhaps from the use of a percentage of whole bunches in fermentation) and a silken texture. If I had to choose one "classic" vintage that defined their style I would probably point to 2013.
I agreed with Helen that every one of the vintages could be enjoyed right now but, for the benefit of anyone with past vintages in their cellar, asked her to indicate a "drink by" date. It assumes that the wines have been kept in good storage conditions.
Vintage Drink by
1999 (cork) 2020
2000 (cork) 2017
2001 (cork) 2020
2002 2020
2003 2025 (tasting)
2004 2020 (tasting)
2005 2023
2006 2030 (tasting)
2007 2030
2008 2025 (tasting)
2009 2030 (tasting)
2010 2035 (tasting)
2011 2030 (tasting)
2012 2025 (tasting)
2013 2035