Arise Sir Nick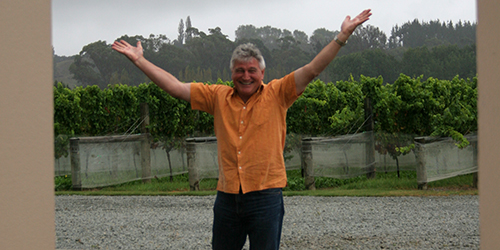 I was absolutely delighted to discover that Nick Nobilo has been made an Officer of the New Zealand Order of Merit for services to the wine industry. He is about the most enthusiastic winemaker/winery owner I know.
Nick's father, the late Nikola Nobilo founded Nobilo Vintners (tastings) in 1944. Nick ran the company with his two brothers, Steve and Mark, after his father retired. I joined them as company secretary in 1975 and worked there until doing my OE a couple of years later. Nick's enthusiasm was infectious. He inspired me to make a career in the wine industry and encouraged me to take an interest in all aspects of the winemaking process.
In the mid-seventies Müller-Thurgau was the up-and-coming grape variety but it produced fairly thin and acidic wine unless it was sweetened with sugar in which case the wine tasted rather sugary and confected. It was a hard sell.
Nick, always an innovator, decided to follow the German example and sweeten his dry wine not with cane sugar but with grape juice. Worried about the possibility of a spontaneous fermentation starting when he added the juice Nick and his cellar hands worked hard to create a sterile environment. They scrubbed the winery and tanks until everything gleamed. Finally the big day arrived and the juice was pumped into a tank of dry, recently fermented Müller Thurgau. I was working late so Nick invited me to climb with him to the top of the tank to be first to sample the new wine. With trembling fingers he opened the hatch. We both stared in horror at a scrubbing brush which was floating "like a giant turd" (in Nick's words) in the wine. The wine was fine, in fact delicious, and for a number of years Nobilo's led the market with their popular Muller Thurgau.
White Cloud, an off/dry, fruity white wine in a distinctive frosted bottle was another of Nick's more successful developments. He also made a string of high quality varietal wines from Chardonnay, Cabernet Sauvignon, Gewürztraminer and his much-loved Pinotage at a time when they were all planted in little more than experimental quantities.
When the company was finally sold, eventually to Constellation, the world's largest wine producer, Nick started his own boutique winery in Gisborne called Vinoptima (tastings). He makes one wine – Gewürztraminer which he hopes will one day be regarded as the world's best. A botrytis-affected dessert Gewürztraminer he made was rated as the highest scoring New Zealand wine in Robert Parker's guide "The Wine Advocate".
Vinoptima is certainly worth visiting (invitations by appointment) to taste outstanding Gewürztraminer and meet one of the nicest guys in the wine industry.