The best of Priorat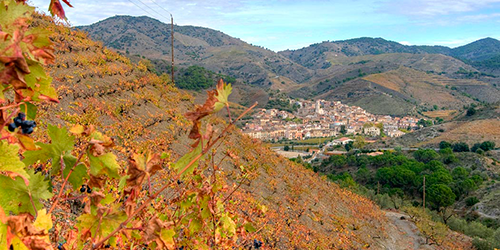 In the 1970s there were only two wineries in Priorat bottling their own: Scala Dei and Mas d'En Gil (tasting). Today, there are 125. Such is the explosion of interest in Priorat wines. The most impressive I tasted were mostly the top cuvées of a handful of well-known big-name wineries. Those of Clos Mogador, Alvaro Palacios (tastings), Clos Figueras (tastings), Clos Erasmus and Clos Martinet.
Mas Doix, especially the 1902 Centenary Carignan, and the wine simply called Doix (that's the family name, pronounced Doish). These are wonderfully clean, modern Priorat wines with smooth textures and no astringency, lovely balance and no excesses of alcohol or oak. The winery is very new and modern, boutique sized and the barrel cellar hewn into the llicorella slate, the bare rock walls standing silent watch over the wines they yielded, gently maturing in barrel. Winemaker Sandra Doix, the young daughter of the founders, is an oenologist and very capable and enthusiastic about her métier. (Importer: Untapped Wines)
The style of Terroir al Limit (tastings) takes some getting used to, and some patience. Winemaker Dominik Huber deliberately produces the wines in a reductive style, and when first poured they can show confronting levels of hydrogen sulfide. Happily, this breathes off – but you have to give the wines time, either in decanter or glass, for the sulfides to dissipate. They do emerge as lovely wines, none finer and more elegant than Les Manyes. This is a 180-Euro wine, from a single grenache vineyard, which at 800 metres is one of the highest in the region. It's a companion to Les Tosses, a gutsier 100% carignan also made from a single vineyard, this one at 600 metres. Both were 2012 vintage. One of Huber's partners in the business is South African star winemaker Eben Sadie.
The wines of Cims de Porrera (pictured) could not be more different from Terroir al Limit, made in a more oxidative style, but they're also superb. I tasted three vintages of their Classic: 2008, '09 and 2000 (from magnum), and loved them all. Importer is The Spanish Acquisition. These wines build great complexity with bottle-age.
The ability to mature superbly was also demonstrated by Christopher Cannan's mini-vertical tasting of Clos Figueres. (Importer: Negociants Australia) The 2004 was the best, a great wine indeed, and I also loved the 2007, 2000 and 2010.
The wines of Clos del Portal also wowed my taste-buds. Produced in a spanking new winery sensitively set into a hillside by architect turned wine producer Alfredo Arribas, these are superbly made wines. The top bottle (with a cartoon-ish label that changes with the vintage) is Tros de Clos, the 2013 of which was one of my highest scoring wines of the trip, and nowhere near the top-priced at a Spanish retail of 45 Euros. It's 100% carignan from a single vineyard more than a century old. The next one down, Somni ('dream') was also delicious at 36 Euros, and Negre de Negres is also very good in its 21-Euro category.
There are plenty of very smart Priorat wines at down-to-earth prices. Here are a few. The winery is called Clos 93 and the wine, L'Interrogant 2013, with a large question-mark on the label. It's a superb wine (trophy score from me) and costs just 12 Euros.
Vall Llach (pronounced Val Yack) has several excellent wines but the Embruix 2012 is just 18 Euros. This is a lovely, fruit-driven wine produced in big licks (70,000 bottles a year) and it's good value. Importer: Negociants Australia.
Clos Figueras' entry-level wine, Serras del Priorat 2013, is a delicious glass of red for early drinking at an affordable price.
Nita 2013 is a pretty, fragrant, pepper and wild-herb scented wine that drinks well young. A glass was 4.20 Euros at local restaurant Hostal Sport, in Falset. I was told the winemaker had worked for Alvaro Palacios.
Some tips on travel in Priorat in the next bulletin.