The terroir, the beauty and the bird song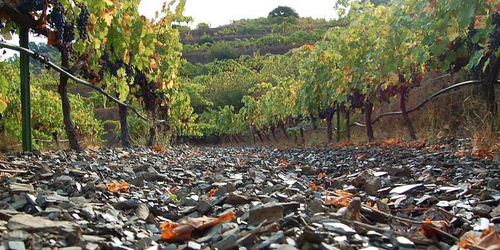 If there's a single factor responsible for the superb, and distinctive red wines of Priorat, it's the llicorella slate. Until you go there and see it, it's difficult to picture the extent of the slate, which can vary from what appears to be pure slate under some vineyards to a kind of shale, slate mixed with clay, under others. This slate is not like the hard slate of the Mosel Valley which can be used for building: it's brittle and readily breaks down into small pieces.
Most of the world's truly great vineyard soils are very poor – of low fertility – and the llicorella is no exception. The important thing is that without irrigation, in a harsh climate of very dry, hot summers, the vine roots must penetrate deep into the subsoil for moisture – and that means sending tiny roots into minuscule cracks in the slate. Rock, of course, holds moisture, and vines are determined to find it. Their survival drive is strong.
The other side of the story is that – as the old saying goes – "struggling vines produce great wines". The poverty of the soil means that the vines naturally produce very low yields (25 hectolitres per hectare is a good rule of thumb) and very low yields mean concentrated wines. These wines are full-bodied, high in alcohol (14.5 to 15.5% alcohol is normal), dark in colour and very rich in flavour, extract and tannin. Ripeness is never a problem, hence the tannins are smooth: I have yet to taste a Priorat red with astringent, unripe tannins.
Although the soil is low in fertility, wine producers emphasise that it's rich in minerals. The jury is still out on the science of this, but anecdotal evidence is that this is a good indicator for wine character.
Of course, great terroirs are more than just soil. More than just soil plus climate. The grape varieties must be suited to soil and climate. It's a fair call to say that carignan does not generally produce great wine, but Priorat is an exception. Indeed, there is no better carignan in the world than in Priorat. And grenache is of course famous as the grape par excellence for the world's hotter, drier wine regions. Look no further than the Southern Rhone Valley, Languedoc, Midi and Provence.
The great Priorat wines are either mono-varietal carignans or they're blends of grenache and carignan. Both will almost certainly come from grapes grown in very old vineyards (some over 100 years old) in very special, steeply hilly sites.
Many of those vineyards replanted after phylloxera were planted to cabernet sauvignon, merlot and syrah, and in the early years of the rebirth, these were often blended in with the grenache and carignan. But, as the Priorat becomes more confident and proud of its heritage and its specialness, these so-called 'international' varieties are decreasing in importance in both vineyard plantings and wines.
The most striking feature of the Priorat is its topography: unbelievably hilly, steep, and varied. The orientation varies constantly as you drive around the narrow, precipitously perched roads. North-facing slopes are of course cooler; south hotter. And you move quickly from one to the other as you drive around. Likewise, the northern and/or eastern parts of Priorat (eg. Porrera and Scala Dei) are cooler; the more southern and westerly (eg. El Lloar) are hotter, with harvest up to a month later.
What you have to go there to really appreciate is how stunningly beautiful, peaceful, quiet and revitalising this place is. The roads would be much more hazardous were there more traffic, but you can drive around the entire region all day and only pass a handful of other cars. You'll probably see more cyclists than motor vehicles: it is a stunning place for the serious bike rider. Stop on the roadside to enjoy the breathtaking scenery, and breathe in the aromas of wild herbs and hear the scrubby land humming with life: birds and insects are abundant, giving the impression that this is a healthy and unpolluted place.
But go there in spring, or alternatively autumn. Summer is very hot, and winter – well, let's just say there's a reason the permanent population is tiny!