Waiheke Syrah excels in "perfect" vintage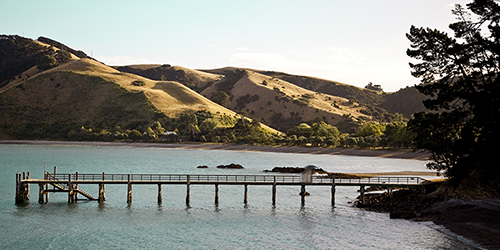 I've had a tantalising taste of Waiheke Syrah from the highly rated 2013 vintage, with just half a dozen wines that seem to support the notion that it's produced some of the island's "best ever" Syrah. Long maturation times in both barrel and bottle mean that there are many more wines yet to be released but if you like big, intense and complex Syrah it might be worth getting your cheque book at the ready.
While it's dangerous to generalise, Waiheke reds are more "vinous" and savoury than the often intensely fruity Hawke's Bay equivalent. I particularly like the textural qualities of the best examples which show a pleasing weight and richness on the palate. An increasing number of producers are now using screwcaps which means the best wines are likely to cellar for a couple of decades or more, although many of the 2013 Syrah I tasted were seductively accessible on release.
Cable Bay 2013 Reserve Syrah (tasting) heads the field so far. This single vineyard wine from the western end of the island is co-fermented with 2% Viognier to produce a heady wine with floral, black pepper, plum and blueberry flavours together with a seasoning of spicy oak. I love the silken texture of this dangerously accessible wine. The less expensive regular label from Cable Bay (tasting) is nearly as good. Also co-fermented with Viognier, it has a more pronounced floral/violet perfume and similarly silken texture.
Unsurprisingly the high achieving Syrah producer Passage Rock was also near the head of the field with their Reserve Syrah (tasting), a blend of three vineyards which claim to be the oldest Syrah vines on the island. It's a powerful beast with typical plum and pepper flavours – a veritable iron fist in a velvet glove.
Goldie 2013 Syrah (tasting) is produced from a vineyard owned by the wine faculty of the University of Auckland, proving that academics know a thing or two about producing ripe grapes. The wine weighs in with a hefty 15% alcohol, but intense plum/prune, licorice and black pepper flavours smother the alcohol preventing any suggestion of heat on the finish.