Leading winemaker moves on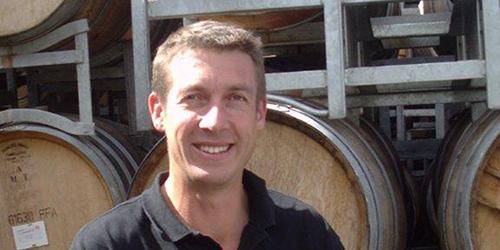 Alastair Maling MW (pictured) will shortly leave Villa Maria (tastings), where he has been chief winemaker for 12½ years, to head the winemaking and viticulture team at Foley Family Wines.
Foley Family wines is owned by American billionaire Bill Foley. It must be the fastest growing wine group in the country after buying the Marlborough brands Grove Mill (tastings), Vavasour (tastings), Clifford Bay (tastings), Goldwater (tastings) and Dashwood and the Martinborough wineries Te Kairanga (tastings) and Martinborough Vineyards (tastings) in reasonably quick succession.
Maling grew up in Hawke's Bay and earned a commerce degree at Lincoln University before getting the wine bug and gaining a Post Graduate Diploma in Oenology and Viticulture at Lincoln. He worked in Europe and South Africa as a flying winemaker for five years and gained his Master of Wine qualification in 2000.
He was named in the Decanter Wine Magazine (2003) as one of five young New Zealanders to "watch out for" in the wine industry and was awarded the White Winemaker of the Year trophy at the 2007 International Wine Challenge in London. Maling has been in charge of winemaking and viticulture at Villa Maria during a period in which quality has grown rapidly across virtually every wine style to a point where the company dominates the top awards at every serious wine show.