Milk products in wine explained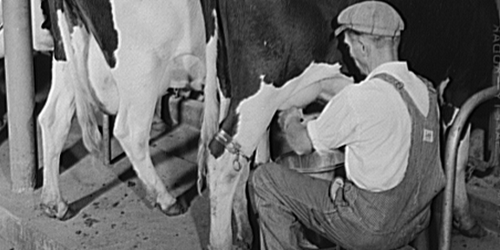 Wine drinkers often ask about the 'milk products' which can be used in winemaking, and which are often declared on the back-labels of wine bottles. This is usually in small type, hidden away at the bottom among the mandatory information such as contents, alcohol and standard drinks.
Milk itself is not often used in winemaking, but a milk by-product called casein is. It can be used as a fining agent.
Fining processes are used to clarify wine. The winemaker adds a small quantity of casein to the wine, which is mixed thoroughly, and then left to settle. Unstable proteins, which might otherwise cause a haze if left in the wine, are removed electrolytically. In other words, the casein molecules are electrically attracted to the protein molecules and they stick together and precipitate, ie. they fall to the bottom of the tank of wine, and the wine is racked or drained off, leaving the lees behind. Hence the fining agents are omitted. They don't remain part of the wine.
The warning on the label is there to protect the winery against the possibility of litigation if someone has a seriously bad reaction caused by milk residue, which is something that I have never heard of happening. There should not be any residue in the wine but the possibility cannot be entirely ruled out. For the vast majority of drinkers, it's not something to be concerned about.
This fining has no effect on the taste or healthfulness of the wine, but a clear, bright-looking wine is much more pleasant to contemplate than one which is murky.