It's OK to nuke wine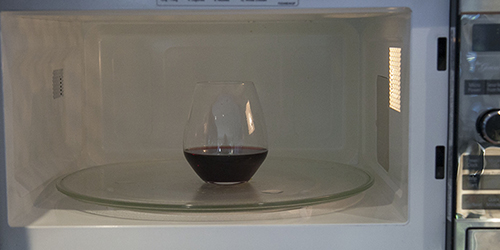 It's easy to spark off a debate among wine enthusiasts. Just mention Robert Parker, the 100-point scoring system or natural wine and pretty soon the conversation is likely to become heated. The most controversial topic of all, however, is heating wine in the microwave. When I mention it in my wine classes hackles are sure to rise.
I have a temperature-controlled wine cellar set at 14oC. That's too cold for most red wine although it will improve Velluto Rosso, a sweet red once made under the Corbans brand. The solution is to warm the wine in bottle or glass. I prefer warming it glass by glass in the microwave because it's quick and accurate. First I pour some cold wine in a stemless wine glass (my favourite red wine glasses don't fit in my microwave). I taste the cold wine before putting in the microwave for 10 seconds then taste it again. Too cold – give it a few more seconds. Too warm – top it up with cold wine from the bottle. The whole procedure takes no more than 30 seconds and delivers a wine that is at perfect drinking temperature every time.
Now let's hear from the opposition. People who object, sometimes violently, to exposing their wine to microwaves do so on emotional grounds. They also tend to prefer corks, approve of capital punishment and belong to the Green Party. Wine is far too precious, complex and vulnerable to treat that way they argue. I suggest they pour two glasses of wine from the same bottle, nuke one and warm the other by standing it in warm water, then compare the two samples. I'm fairly sure that few opponents put it to the test.
A Wellington wine retailer told me that he always warms the entire bottle of red wine in the microwave but noticed that leftover wine doesn't keep well once it has been nuked. Interesting. I checked it out with three different red wines 24-hours after they had been microwaved with samples of the same wine that had not been in the microwave. There was no difference.