Less is more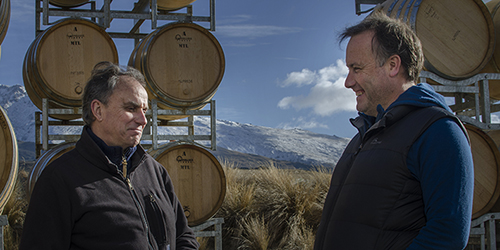 (Pictured: Francois Millet & Paul Pujol)
Prophet's Rock winemaker, Paul Pujol, couldn't believe his luck when He was invited to work the 2009 vintage at Domaine Comte Georges de Vogüé, one of Burgundy's super-star wine producers. Before joining Prophet's Rock (tastings) he had worked for a number of years at wineries in the Languedoc, Sancerre and Alsace but now his passion was Pinot Noir. Domaine Comte Georges de Vogüé seemed like a dream come true.
"It was a real eye-opener, particularly from a New World perspective" enthused Pujol. "I discovered that they don't plunge their Musigny. They might mix it around a little to keep the cap of skins wet but their winemaker, Francoise Millet, believes that lower extraction makes a wine that's truer to site." Millet admitted they need a "firmer hand" with Bonnes Mares. They give it one plunge during fermentation. That compares to a typical regime of three plunges a day in New Zealand.
Pujol returned to New Zealand determined to apply the same techniques of minimal extraction to his wines, although aware that what works in France may not work as well in New Zealand. In 2010 he experimented by giving 20% of his Pinot Noir one hard plunge and treating the rest in a more conventional manner with regular plunges. By 2013 Pujol was applying the "hands off" regime to 100% of his Pinot Noir.
A vertical tasting of Prophet's Rock Pinot Noir from 2010 to 2013 suggests that Pujol is on the right track. They are all good wines, but the latest vintages are more fragrant and perfumed with slightly softer tannins. They still have plenty of structure, Pujol says that their high altitude vineyard in the Bendigo sub-region of Central Otago produces naturally fairly tannic wines, but they are definitely more accessible and more charming wines.
Millet worked a vintage at Prophet's Rock this year. "He is impressed with the character of Central Otago Pinot Noir, but thinks that too many wines are over-worked. Winemakers should step back and do less."