Kumeu River's range of Chardonnays beats selection of top white burgundy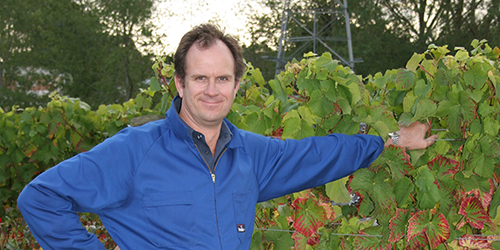 (Pictured: Mike Brajkovich of Kumeu River)
An extraordinary tasting organised by Farr Vintners founder, Stephen Browett, pitched four Kumeu River Chardonnays against 17 carefully selected white burgundies. The tasting was in three flights of five wines and one of six wines, with one Kumeu River Chardonnay in each flight.
Kumeu River (tastings) came top in three flights and first equal in a fourth according to the scores of a distinguished panel during a blind tasting. The panel included Jancis Robinson MW, Derek Smedley MW, Neal Martin (of The Wine Advocate), Matthew Jukes (Daily Mail), Tina Gellie (Decanter Magazine), Jamie Goode (Wineanorak.com) and Will Lyons of the Wall Street Journal.
You can read all about it on Stephen Bowett's blog at http://www.farrvintners.com/blog.php . As he admits in his blog, Bowett has been a long-time fan of Kumeu River. He also loves challenging himself and others by offering wines "blind" against similar styles.
I recall accepting an invitation to have Dinner with Bowett at Chez Bruce in Wandsworth. When I arrived I was introduced to a second guest, an elegant French wine expert. We were each given two glasses of anonymous white wine. Bowett asked the Frenchman what he thought of them. He replied that they were both good Chardonnays and that the left glass was probably a white burgundy, and very possibly a Puligny-Montrachet.
Then it was my turn. I agreed with the Frenchman. Bowett asked me to comment on the right glass which I had suggested was a New Zealand Chardonnay. Knowing Bowett's love for Kumeu River Chardonnay helped me to correctly identify the maker. "Ahh … but what vintage is it?" It was a truly lovely wine with a bit of bottle age, so I guessed 1991. Correct! I'd passed some sort of test and the three of us enjoyed a splendid meal.