Don't assume you are under the legal limit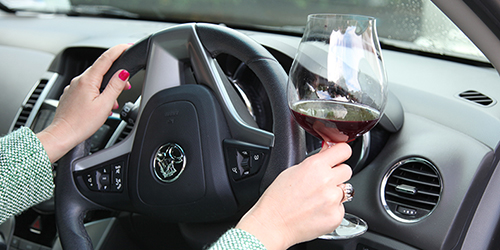 After a three-hour, three-course dinner with friends I was preparing to leave when the host suggested we all check our sobriety on his brand new breathalyser. Four of us had enjoyed a bottle of Two Paddocks 2012 "Last Chance" Pinot Noir (13% alc.) and just over half a bottle of Kina 2012 Chardonnay (13.5% alc.). No one had shown any sign of even mild intoxication.
On 1 December last year (coincidentally my birthday) New Zealand's Land Transport Amendment Act (No 2) 2014 lowered the breath alcohol limit for adult drivers from 400 micrograms (mcg) of alcohol per litre of breath, to 250mcg. The blood alcohol limit has reduced from 80mg of alcohol per 100ml of blood, to 50mg. "Drivers who commit an offence between 251-400mcg of breath face an infringement fee of $200 and receive 50 demerit points. Drivers who accumulate 100 or more demerit points from driving offences within two years receive a three month driver licence suspension."
I was first to blow into the breathalyser. It registered 200 mcg of breath, just under the limit. I expected it to be lower. As the designated driver I thought I'd been fairly abstemious in the face of two very tasty wines.
The host was next. He recorded 400 mcg, enough to lose his licence for six months if he'd been behind the wheel. The hosts wife registered 250 mcg while my wife, Marion, was 300 mcg. Marion did confess to having "a teeny glass of Pinot Gris" with our daughter before driving to the dinner. Both ladies would have been fined with a loss of 50 demerit points.
I don't want to challenge the new 400 mcg level which has been adopted in many countries, including Australia. I do want to caution you against assuming you are under the limit simply because you don't feel intoxicated.
I have just ordered a breathalyser.