Anything & everything goes in winemaking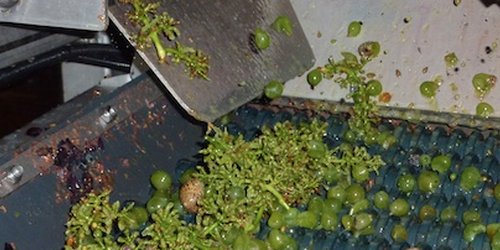 Just about anything goes in wine these days. 'Ferment it and they will come', seems to be the only rule. The new trends purport to turn winemaking progress on its head. Here's the latest one.
On one hand, many established wine producers are buying the latest sorting tables, some of which work with advanced optics to weed out the undesirable things from what arrives in the grape-pickers' buckets. They are removing any stalks that get through the destemmer, any leaves or bits of vine wood or tree-bark, any green berries or diseased berries. The result is a purer wine, with less distracting aroma and flavour caused by MOG (material other than grape).
On the other hand we have a diametrically opposed view, which takes the attitude that the more 'natural' a wine is, the better. This can mean no additives at all – at its extreme this means no sulfur dioxide and no cultured yeast – and nothing removed: so, no fining or filtration to clarify the wine or remove undesirable attributes.
The 'natural' mob are usually young, bearded, tattooed biodynamic or organic practitioners in fashionable regions. But, increasingly, we see winemakers in established regions – which are largely ignored by sommeliers in smart big-city restaurants – trying to get in on the trends. Here's one that caught my eye.
Barossa winemaker Damien Tscharke (tastings) has released two 'Project Wines', a 2014 savagnin and 2014 montepulciano, made by this philosophy: "Nothing from the harvested fruit can be removed – leaves, sticks, skin, seeds, essentially the whole kit and caboodle. Nothing can be added to the fermenting wine and the wine should be bottled without fining, stabilising or clarifying."
Tscharke elaborates: "Tscharke Project is about making wines that preserve all of the flavours, aromas and textures derived from the vineyard. A pure expression of a wine where nothing has been wasted during the vinification."
More: "The result should be a wine that is a pure expression of a parcel of fruit that echoes its origin and has only been influenced by the environment in which the vines have experienced a vegetative cycle."
Uh-huh. Dead lizards, snails, caterpillars, and all.
It looks like another new-age attempt to turn the clock of progress in wine back to the Dark Ages. But, dear reader, I will say no more until I've tasted the wines. Stay tuned!