The secret of Woodlands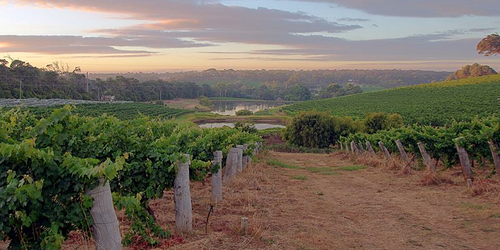 Andrew Watson of Woodlands (tastings) is convinced there are two critical steps to making better wine at the family vineyard in Margaret River (pictured). The first is to wild ferment the white wines. "It's not so important in reds because they spend longer with their skins, but with chardonnay, cultured yeast leads to same-ish wines," he says. To that end, he and his brother Stuart, the Woodlands chief winemaker, are fermenting nearly all of their chardonnay with ambient yeasts, as well as their pinot noir and increasing volumes of their red wines. Their top chardonnay, Chloe (tastings), has been 100% wild fermented for some time.
The second critical thing Watson identifies is to bottle their own wine – which they don't do yet, but as soon as they can afford the (gulp) $400,000 for a bottling line, they'll be bottling their own.
Most small wineries use a contract bottler, and it's not that contract bottlers do a bad job, but he thinks it's critical to identify the right moment for each wine to move from one container to another. For the time being, it doesn't seem too expensive to pay the $2.30 a carton for someone else to do the packaging.
The piece of equipment which has made a difference at Woodlands for the last five years is a Bucher sorting table. This vibrating and sieving machine removes the stalks and unripe berries that would otherwise go into the fermenter along with the healthy, ripe grapes. Brighter, purer fruit flavours are the result.
The Woodlands suite of cabernet sauvignon-based reds peaks out with the famous Woodlands Vineyard Cabernet Sauvignon (tastings). The name changes yearly and the current release 2011 ($130) is named Alex (tasting). It's always released with extra bottle-age. The 2011 is a cracker: one of the best they've made, I believe. Next in line is the Woodlands Vineyard Margaret ($45 – tasting), an estate-grown cabernet sauvignon, merlot, malbec which (somewhat confusingly) carries the name Margaret each vintage. The 2012 is an elegant, ageworthy wine.
Then comes the 2013 Wilyabrup Valley Cabernet Sauvignon Merlot ($27 – tasting), which is not all from the estate vines, and is a cassisy fruit-driven style. There's also a Wilyabrup Valley Cabernet Franc Merlot 2013 ($27 – tasting) from the family's second vineyard "down the road": Woodlands Brook. It's another very good wine with a different fruit expression of blacker fruits and a hint of cola.
In a similar way the outstanding, all estate-grown Chloe Chardonnay (the 2013 is $70 – tasting) has a $27 back-up – a 2014 Wilyabrup Valley Chardonnay (tasting) sourced from three vineyards in the locality. A very good wine, too, although quite crisp and tight at this stage of its life.
Woodlands is one of many highly-performing producers in Margaret River. And just you watch out when they get their own bottling line :-).