Wine stain solution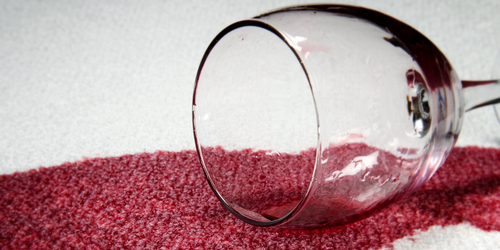 Some things stick in the memory. When I think of wine-stains, for instance, my mind scrolls back to the late 1990s when the uncanny magnetism that exists between young red wine and pale-coloured trousers was conclusively demonstrated. I stress 'young' red wine because colour fades as wine ages, and aged-wine colour is nowhere near as damaging. Young cabernet, on the other hand, is lethal.
The memory is vivid. David Hohnen was still boss at Cape Mentelle (tastings). He was in Sydney launching his new vintage of cabernet sauvignon at Lucio's restaurant with a vertical tasting of 'Mental Cabs'. I was foolishly wearing very light brown trousers. Foolishly, because young Mental Cabs had some of the darkest, purplest colours you'd ever see on a red wine. Reaching over a row of glasses, my sleeve caught on one and dragged it onto my lap, with disastrous results.
As I was leaving, Hohnen couldn't help remarking, as he admired the stain, what a great job he'd done with the colour extraction that vintage. He turned to someone beside him and deadpanned "He liked it so much he's taking some home."
That's my segué to mentioning a new product for removing wine stains: Xtreme Remover.
It's the latest in a succession of stain removers that have appeared over the years. I've found most of them have worked quite well at getting rid of the first 80 or 90% of the stain. It's the last 10% or so that proves pesky, and frankly, any kind of stain on your new, snow-white Issey Miyake number is too much. And Murphy's Law decrees that it will be an expensive garment that gets stained. Murphy also decrees that it'll be the first time you've ever worn it.
The same is true of pale coloured carpets: they're always new and expensive.
The moral of the story is never to wear white and never buy a pale carpet. Either that, or drink only very old red wine whose colour has lost its potency.
Xtreme Stain Remover comes in a 150ml plastic spray bottle, and costs $9.95 at Dan Murphy's or online at www.xtremeremover.com. It's promoted as bleach-free and therefore colour-safe.
And here are a couple of useful tips from the product's creator, Ken Seddon:
1. Don't scrub a stain, as you could break down fibres and actually make the problem worse.
2. If you don't have any stain remover such as Xtreme immediately to hand, place the stained item in cold water until you can get some.
3. The earlier you catch a stain, the better.
4. Blot all excess fluid off the surface before soaking or using a stain remover.
5. Don't use harsh chemicals as they may strip away more than the stain.