Chardonnay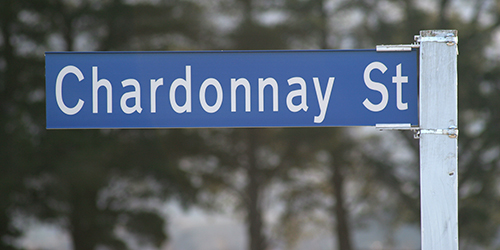 Few people would argue that Chardonnay and Riesling produce the world's finest white wines. Some favour Chardonnay and many (including me) favour Riesling, but for most they rank first and second. I find it astounding that NZ Chardonnay became unfashionable nearly a decade ago. The rise and rise of Pinot Gris in this country offers part of the explanation but I think the main reason is it simply fell out of fashion.
I recall asking a class of wine enthusiasts who didn't like Chardonnay. About half raised their hands. I asked a young woman with her hand up why she didn't like Chardonnay. Her response, "Well it's not that I don't like Chardonnay it's just that it's, well, not the thing to drink". I felt my buttocks clench together.
Anyway the good news is that Chardonnay is on the rise. During a recent visit to Marlborough several winemakers complained that they had run out of Chardonnay. One of them was considering top grafting a Pinot Gris vineyard to Chardonnay. He confessed that he'd previously top-grafted the same vineyard from Chardonnay to Pinot Gris six years ago.
I'm getting to the end of a large tasting of NZ Chardonnay – 86 wines reviewed so far.
My top two wines of the tasting are absolutely delicious Vidal 2013 Legacy Chardonnay (tasting) and Giesen's limited edition The Fuder Single Vineyard Selection Clayvin (tasting). The first wins on harmony and complexity the second on sheer power. Both remind me that NZ Chardonnay has come a long way in recent years.
My vote for "Best value Chardonnay" goes to Vidal's 2014 Chardonnay (tasting). Boasting an RRP of just $15.99 it offers a bowl full of fruit that's cleverly seasoned with a tease of oak. This wine reinforces my view that the Villa Maria/Vidal/Esk Valley group own the Chardonnay category – at least that's the way it looks when you study the gold medal lists of local wine shows.
"Most interesting" Chardonnay is Pukeora 2013 Ruahine Range Chardonnay (tasting) from the exciting and emerging limestone-laced soils of Central Hawke's Bay. It's a quirky but very pleasing wine offering value at an RRP of just $25.