Misleading bottle stickers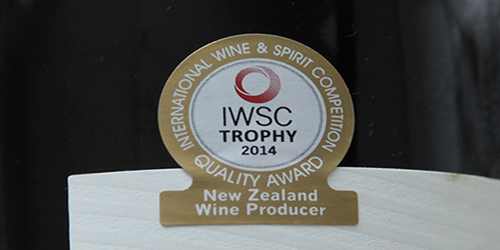 Browsing through some opened samples after a tasting I came across a fairly humble Pinot Noir (at an admittedly humble price) sporting a sticker that showed it had won a trophy at the International Wine & Spirit Competition in London. Surely not. A check on the IWSC website showed that the producer, Yealands Estate (tastings), had indeed won the trophy for top NZ wine producer last year. Well done Yealands.
I believe that the label is misleading. The sticker is factually correct but it still misleads. Perhaps if it stated "Top New Zealand Wine Producer" it would be clearer, linking the trophy to that success rather than a bottle of Pinot Noir. I asked six people if they would consider buying the wine and if so, why. They all said they would consider buying it because it was a trophy-winning Pinot Noir (one person thought it had won a gold medal) priced at $18.95. The wine has not won a trophy and the sticker is therefore misleading.
I don't blame Yealands. They won the honour fair and square and were entitled to purchase and use the stickers. I dislike "winery of the show" stickers because consumers are too easily mislead into buying an undistinguished wine even if it has been made by a distinguished producer. The proper place to advertise "winery of the show" awards is on a website, not on a bottle.