G & T time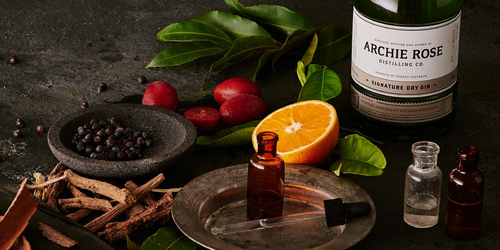 Gin has never been one of my favourite tipples. But, like anyone, I've been fascinated by the fascination that surrounds it these days. It seems quite unjustified really: gin is a clear, young, neutral spirit flavoured with juniper berries and other herbs and spices, which is almost always drunk as a mixer with soft drinks. As such, its subtleties must be all but lost in the cacophony of bitter lemon, tonic water or whatever else is added to it.
There are all sorts of super-expensive gins doing the rounds, often in very fancy bottles, and the conclusion you'd have to draw is that this phenomenon is based 99% on marketing. So it was with great interest that this confirmed gin-sceptic wandered innocently into the new Archie Rose distillery shop on Mentmore Avenue, Rosebery the other day after a delicious lunch next door at Kitchen By Mike. I received an education.
The tasting room offers several flights. For $26, you can have a taste of various types of spirit, or you can taste five different gins from all over the place, or five different Australian gins. I requested the Aussie flight but they misunderstood me and served the world flight. No matter: it was quite a revelation.
To my uneducated gin-palate, the Bols Genever was quite neutral, like a grappa or schnapps. Yes, I was reassured, that's right: they don't add any botanicals (plant-derived flavourings) to it. Plymouth was citrusy and juniper-y, and tasted exactly like I'd expect an English gin to taste. Nice but not all that exciting.
Then we started to branch out a bit. Broker's London Dry (not from London, but Birmingham) with 10 botanicals added, was very spicy, intense and full of personality, with a finish of bitter peel. Hayman's Old Tom had a powerful juniper aroma, very floral and sweetly aromatic, and on the palate, a surprisingly sweetened taste. It was delicious, but the quinine-like character meant it tasted like a gin and tonic even without tonic water. Or perhaps I was just getting light headed.
The climax was of course the Archie Rose Signature Dry gin. At 42% alcohol it had a bit more horsepower than most. It was beautifully aromatic, floral and pungent with a strong note of cassia bark, and a very long, powerful palate. It was certainly an attention-grabbing style, but my point remains: do we notice the difference when we drown it in mixers? I can see I'll have to do some more research. And I'll have to go back for that Australian gin flight.