Dog Point bares all
Dog Point made the brave decision to celebrate their 10th anniversary by opening every wine they'd ever made. When most wine producers offer a vertical they present a selection of the best wines for much the same reason you'd power dress for a job interview. Partners James Healy (winemaker) and Ivan Sutherland (viticulturist) are justified in having confidence in their wines. I had previously tasted 27 of Dog Point's wine which earned an average rating of 95 points.
A vertical tasting offers an insight to ageing potential and the evolution of style as well as a glimpse of vintage variation. Here is a summary of my tasting notes.
Sauvignon Blanc
Screwcap since the first wine in 2004. Made from hand-picked grapes cropped as a (low) average of 7.5 tonnes/he (50hl/ha). 20% fermented using indigenous yeasts. Held in tank on lees for three months before bottling.
Top wines: 2013 – tasting (by a small margin from 2014 – tasting and 2012 – tasting which may reveal my tasting bias for young Sauvignon). All wines were delicious and a stand-out in terms of flavour concentration. A sophisticated style showing nice lees influence and great fruit purity.
Section 94 Sauvignon Blanc
Wine from one block cropped at an average of 7.5 tonnes/ha. Hand-picked, whole-bunch pressed, fermented in older French oak barrels using indigenous yeasts with occasional stirring. Typically slightly "funky" and for me occasionally crosses the line to become excessively reductive. A cult Sauvignon to its many adoring fans. All in cork although screwcap will soon be used for domestic sales.
Top wines: 2009 (tasting) followed by 2012 (tasting) and 2013 (tasting). Fascinating and quite complex wine that becomes more interesting with bottle age. James seems to have backed off the oak influence in recent years which is a good thing.
Chardonnay
From the home vineyard which is cropped at 5 tonne/ha. Whole-bunch pressed to French oak barrels (15% new) for fermentation and 18 months maturation. Dropped new oak from 25% to 15% in 2008 and have steadily reduced battonage over the same period. All in cork but screwcap will soon be used for domestic sales.
Top wines: 2013 (tasting) followed by 2011 (tasting), 2009 (tasting) and 2006 (tasting). All terrific wines with an obvious ability to develop well with bottle age. 2008 least favourite – possibly showing a touch of botrytis (It still earned 90 points).
Pinot Noir
Made from six clones cropped at around 5 tonnes/ha. Hand-harvested and sorted in winery. Fermented using indigenous yeasts with small percentage of whole bunch. 21-29 days on skins after fermentation. Aged for 17 months in French oak. All in cork but screwcap will soon be used for domestic sales.
Top wines: 2012 (tasting) followed by 2008 (tasting) and 2006 (tasting) all from magnum. I subsequently bought a case of 2012 – a magnificent wine that was top red in the 2014 Six Nations Wine Competition. All wines showed impressive fruit intensity and vibrance often with a suggestion of underlying minerality.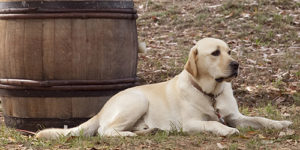 (Monty the Dog Point wine dog – he loves eating pinot noir grapes!)