Best ever Elston?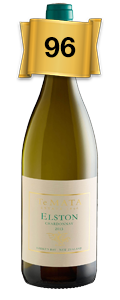 Te Mata 2013 Elston Chardonnay, Hawke's Bay $35
I've had a love/ambivalent relationship with Elston Chardonnay over the years. When it's on form the wine can be spectacular. It doesn't get more "on form" than this 2013 vintage. Concentrated, weighty Chardonnay that's as good as I can recall from this high-performing label. Quite burgundy-like with terrific acidity. Will age very well. I plan to buy a case. Score: 96/100 ★★★★★ – view on bobcampbell.nz
Food: Pan-fried snapper
Stockists: Moore Wilson's, Wellington. Advintage, Hawkes Bay.
Ranked #2 of 51 2013 Chardonnay tasted from Hawke's Bay
Price Benchmark: $47.50 NZD Avg 96pt 2013 Chardonnay tasted from New Zealand