NZ vintage 2015 – a progress report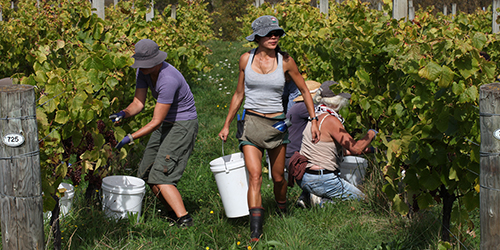 The 2015 vintage is over for many North Island producers and progressing for most in the South Island. There is obviously significant variation from region to region, although perhaps the differences are less marked this year than most. I plan to do a detailed roundup by region after the final whistle blows but feel it worthwhile to give a progress report.
The defining features this year are:
Quantity is well down
Cool weather during flowering in November/December will result in a significant drop on last year's bloated grape tonnage. It's hard to estimate at this stage but a shortfall on last year of 20% wouldn't surprise me. That's not all bad, particularly because Sauvignon Blanc will make by far the biggest contribution to the drop which might put a little upward pressure on prices. Also on the bright side is the claim by winemakers that less grapes means greater concentration although that rule does not always apply.
Jack Frost takes his share
Frost has compounded crop losses in most regions. Marlborough had 15 Spring frosts although damage is claimed to be minimal. Waipara is less fortunate with around 80% of vineyards affected by frost.
Powdery mildew a problem
Powdery mildew has been a problem in most regions. A new strain of the mildew has greater resistant to normally effective sprays. Vigilant growers who applied sprays instead of taking a Christmas holiday (in Marlborough at least) appear to have been spared.
Cyclone Pam an irritant
In mid-March Cyclone Pam struck the north of the North Island after early predictions that it would devastate those vineyards in its path. Like the Millennium bug, Sars and a host of other media-hyped threats predictions of widespread destruction were greatly overrated. Some grapes were picked before optimum ripeness in the pre-Pam scramble.
As things stand at the moment the vintage is shaping up to be one of average quality. Winemakers are not celebrating but neither are they in mourning.