Savvie sippers celebrate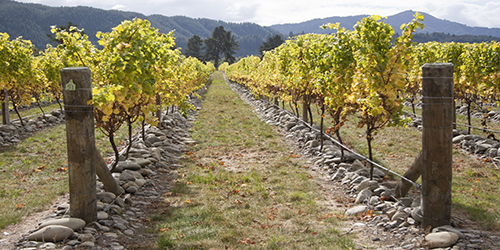 New Zealand winemakers have celebrated Pinot Noir, Syrah, Bordeaux blends, Riesling and aromatic wines – now it is Sauvignon's day in the sun. Any why not? Nearly nine out of every twelve bottles of wine made in New Zealand are labelled Sauvignon Blanc. It has put New Zealand wine on the world map and represents 85% of the country's wine export sales, earning more than $1 billion dollars and making wine our sixth largest export good. Pinot Noir (which has been the hero at five celebrations since 2001) may be more glamorous but Savvie pays the bills.
Organisers are no doubt hoping that the celebration will help breathe new life into a variety that has been hailed for its uniqueness, consistency and quality since it first hit the shelves in the late seventies. For most of us Marlborough Sauvignon Blanc made a strong first impression. Fruitier, more pungent and more "in your face" than other white wines it was like white wine in drag. It had the "look at me" factor. After 30 years many wine enthusiasts seem to find Sauvignon Blanc too predictable and a little boring. "I want subtle, not showy" was the explanation given to me by an ex-Savvie drinker. Fortunately a growing mass of people around the globe continue to slurp it up.
If you have turned your back on Kiwi Sauvignon Blanc it might be worth glancing over your shoulder – the wine has moved on in recent years. A number of wines from adventurous winemakers now show complexity, power and admirable restraint. They are more about texture than showy aromatics. Low-cropping vines, leaf and shoot thinning, some barrel fermentation, lees stirring and reductive winemaking have helped create a new breed of often very exciting Sauvignon styles. Names like Dog Point (Section 94 – tastings), Astrolabe (Taihoa – tastings), Cloudy Bay (tastings), Greywacke (tastings), Clos Henri (tastings), Matua (special vineyard – tastings) spring to mind, but there are many others.
The International Sauvignon Blanc Celebration 2016 (ISBC 2016); not to be confused with the International Straw Building Conference 2016 (ISBC 2016); takes place in Marlborough on February 1-3rd. "The celebration will feature speakers from an array of sectors including science, entertainment, hospitality, journalism and also fellow Sauvignon Blanc producers from around the world, providing guests with a compelling range of perspectives and opinions about Sauvignon Blanc", say the organisers. On the other hand if you want to unravel the mysteries of straw bale construction you should be in Methven 3-9th March.