Best blends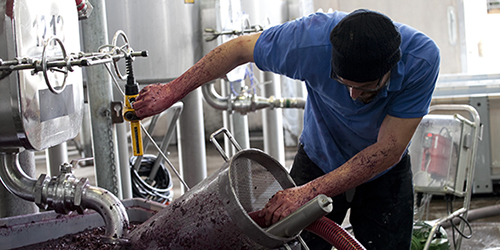 "Kiwi wine drinkers don't get blends", said Auckland wine retailer, Kingsley Wood. "I'll give you an example", he added, warming to the subject. "When local winemakers first started co-fermenting a little Viognier with their Syrah quite a number featured "Viognier" on the front label to distinguish the style from wines that didn't use Viognier. Sales slowed when the second variety was declared. Now most have dropped the word "Viognier" as a result."
Local wine drinkers do seem to be obsessed with wines made from a single grape variety. Around 5% of all red wines made in New Zealand are blended while blended whites are virtually non-existent at just one-third of one percent, according to my tasting note database. Ignoring sparkling wines just 4.5% of the gold medal wines at the Air New Zealand Wine Awards were blended wines.
My top-scoring blended reds clearly demonstrate that some of the country's best wines are not mono-varietal. All are blends of two or more of the Bordeaux grape varieties. I tasted a bottle of Blake Family Vineyard 2005 Redd Gravels, Hawke's Bay (tasting) just a few days ago. The experience reaffirmed my belief that it was a tragedy when that company closed its doors. Te Mata 2013 Coleraine, Hawke's Bay (tasting) is one of the best vintage made since the first in 1982. Puriri Hills 2008 Pope, Clevedon (tasting) is a remarkable wine that in my view eclipsed the excellent 2010 vintage although the later vintage may yet prove to be even better downstream. Destiny Bay 2010 Magna Praemia (tasting) from Waiheke Island is aiming to be number one in price and quality. Together with its sister labels, particularly 2010 Mystae, it challenges the country's very best reds.
Perhaps our best white blends are less exalted than the reds but Pegasus Bay 2012 Sauvignon Blanc Semillon, Waipara (tasting), a bold and adventurous wine that walks a little on the wild side has had a passionate following for many years. Forrest Estate 2009 John Forrest Collection "The White", Marlborough (tasting) is a no less adventurous combination of Sauvignon Blanc, Chardonnay, Riesling, Chenin Blanc, Pinot Gris and Viognier which just about covers all bases. Seresin 2009 Chiaroscuro (tasting) is our highest priced blended white comprised of Chardonnay, Pinot Gris and Riesling while the recently released Trinity Hill 2013 Gimblett Gravels Marsanne Viognier, Hawke's Bay (tasting) is an intriguingly aromatic white that gives a nod in the direction of the Rhone.