Crowdfunding a success for NZ winery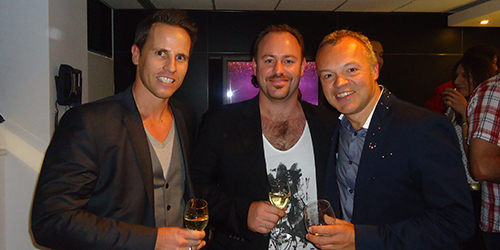 (Left to right: Tim Lightbourne, Rob Cameron & Graham Norton)
Invivo Wines (tastings) must surely be New Zealand's most innovative company. Founders Tim Lightbourne and Rob Cameron convinced high profile UK TV show host Graham Norton to become a shareholder, serve their wine on his show and even launch his own label (made by Invivo). They hosted live street art with graffiti artists in London, organised a barbecue in a Tokyo carpark with a Japanese singer (who wrote a song about Invivo) and recently launched a wine spritzer (which is innovative in a retro sort of way).
Sales have doubled since their launch in 2008. To fund production growth and export marketing effort Invivo became the first winery in the country to raise capital by equity crowdfunding.
Their target was $2 million, the maximum allowed under the Financial Markets Act 2013, the legislation that opened the door to allow many people (the crowd) to contribute relatively small amounts of money (minimum of $1000) to support a business or project. If they raise less than $500,000 the money must be returned to investors leaving them to carry the costs of promotion. Crowdfunding is not without risk.
They had 30 days to reach their $500.000 minimum target. After 12 days Invivo has raised $1,786,288 which already makes them the most successful crowdfunding platform to date. To invest or follow their progress go to www.snowballeffect.co.nz/invivo
In addition to raising much needed capital they now have 378 brand ambassadors with more to come. An investment of up to $5000 earns six bottles of Graham Norton Sauvignon Blanc (tasting) a year for the term of the investment. Larger investors earn one mixed case a year of Invivo wines. Every investor receives a 10% discount on Invivo wines purchased through their website.
On their crowdfunding website Tim and Rob write "Seven years ago, the two of us got together in a bar in London to talk wine. How to make it better. How to sell it to people in a way that would cut through the fluff that the traditional wine companies seem to love so much."
They make a good point. It's currently fashionable for wineries to "tell a story" but how often do you read something like "we are passionate about making the best wines we can from the most suitable varieties grown in our region"? Yawn. It's refreshing to see one winery zig while others zag.