Another day, another glass…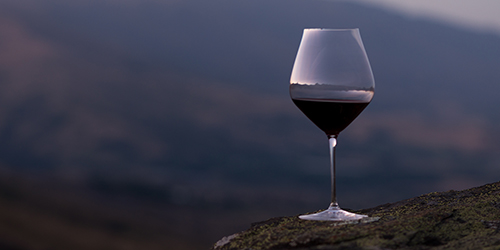 George Riedel is the Billy Graham of glass makers. He's a man on a mission to convert serious drinkers to very serious wine glasses.
I was a Riedel-sceptic until I did the taste comparison of several different wine types served in ISO XL5 tasting glasses alongside the same wines in the appropriate Riedel glass. I calculated that the wines in the Riedel glasses tasted at least one-third better. Yes they are expensive but if you calculate how much you spend on wine for a year, multiply that by one-third they appear to be a worthwhile investment.
That's how I justified spending a princely sum on a large number of Riedel glasses. For a while I served Chardonnay in Chardonnay glasses, Riesling in Riesling glasses etc. Then I got lazy and served all wines in my favourite glass – the Riedel Vinum Pinot Noir glass. I've since graduated to the Riedel Oregon Pinot Noir glass (pictured above) – I like the way the glass amplifies the aroma of any wine from Pinot to port. A flared rim makes it a pleasure to use. These glasses look fragile but the regularly used dozen glasses I bought a year ago are still intact despite rough treatment in the dishwasher.
I was converted to my current favourite glass after getting conscripted to a tasting panel to help George Riedel develop the most suitable glass for Central Otago Pinot Noir. We tasted the same Central Otago Pinot Noir in (I think) 15 different glasses. The differences were astounding. The Riedel Oregon Pinot Noir glass was picked as favourite. I was hooked from that moment.
A few months later I was allowed to test drive the new Central Otago Pinot Noir prototype. It beat the Oregon Pinot Noir glass and Burgundy Pinot Noir glass hands down. I really didn't expect this new glass to be that superior.
Will I buy a set of the new glasses? Yes of course I will, once I've figured out a way to hide the purchase from a wife who labours under the misapprehension that I like the latest and greatest of everything.