Ruinart to toast with 100-year old Champagne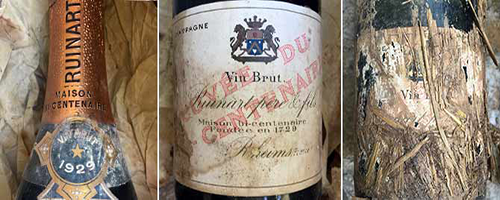 When Champagne Ruinart celebrates its 300th anniversary in 2029, it will have two dozen bottles of 100-year old Ruinart with which to drink the toast. This comes about thanks to an amazing stroke of luck that you would not be able to script.
Late last year an unnamed 'wine professional' telephoned Frederic Panaiotis, the chief winemaker of Ruinart, Champagne's oldest house, and told him he had two dozen bottles of 1929 in his cellar in Alsace. Panaiotis was naturally very interested, especially as there were no pre-World War II bottles in the Ruinart cellar, thanks to the Nazis ransacking the cellars during the occupation. "We have nothing pre-1945, so it's nice to have these," Panaiotis told winesearcher.com.
He claims the two dozen bottles are in good condition, with labels and foil intact, and high levels of wine in the bottle. "Some of them are in magnificent shape, full and clear and with gas. I don't need to get them verified – I know they are good. They haven't been moved since the 1930s."
Champagne Ruinart is in the Moet Hennessy stable along with Moet & Chandon, Dom Perignon, Krug and Veuve Clicquot.
The 1929 bottles are not the oldest Champagne in existence. Moët has bottles dating from the 1800s, and in 2010 a cache of 220-year-old Champagne from the house that became Veuve Clicquot was discovered in a shipwreck in the Baltic.
It is something that you might think only a fraudster like Rudi Kurniawan could organize: The 1929 vintage was made in the year that Ruinart turned 200, and these two dozen relics will be opened – says Panaiotis – in their 100th year during the company's 300th anniversary in 2029. But that's 14 whole years away. I'm not sure I could keep my hands off them that long.