Marlborough sauvignon blanc still in top form after 30 years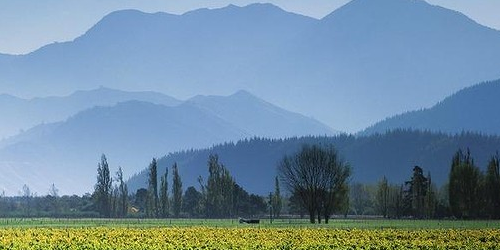 The world has never seen a revolution in wine taste like Marlborough sauvignon blanc. It turned the accepted benchmarks upside down. The old world classics were threatened. Sauvignon blanc had never tasted like this. So pungent; so fruity; so excitingly vibrant; almost shocking to the senses.
It was such a revolution that winemakers from France, Switzerland, Germany and Austria came to Marlborough, New Zealand to be a part of it. Henri Bourgeois (tastings), famous for sauvignon blanc in Sancerre and Pouilly Fume, set up shop in Marlborough to see what they could do in a totally new land with the grape they considered their own.
Cloudy Bay (tastings) wasn't the first to produce a Marlborough sauvignon blanc but it was one of them, and for many years it was the best. If it's lost any of its lustre, it's because there are so many wineries in Marlborough now, and the standard of wine has improved out of sight from those early efforts. It's not so easy for one outstanding producer to be noticed among many.
Cloudy Bay's first vintage was in 1985 and the winery, now owned by French drinks company Moet Hennessy, recently celebrated its 30th anniversary.
Thirty years ago, Marlborough was mostly sheep farms and orchards. Montana, now called Brancott Estate (tastings), marketed the first Marlborough sauvignon blancs and I remember them well: they smelled like the water you drain off boiled asparagus, or cabbage. Not exactly attractive, but undeniably pungent, intense and different. In amongst the vegetal odours there were other, more interesting aromas – of citrus and tropical fruits, especially passionfruit and pineapple. Wine drinkers were transfixed.
David Hohnen, founder of Margaret River winery Cape Mentelle (tastings), was fascinated. He visited Auckland and tasted a Selak's Marlborough sauvignon blanc. It was made by a young Aussie winemaker working in New Zealand: Kevin Judd. Hohnen was entranced: he recognised something in that wine that struck a chord with him and would do the same with millions of others. He resolved to plant vines and make wine in Marlborough.
The name Cloudy Bay already existed – it was the place the Wairau River emptied into the ocean at Blenheim – and the scene on the label also existed. It's the layered range of forested hills flanking the Wairau Valley. It just needed a brilliant sensibility to put it on a label together with that name. Most of us had never seen such a beautiful label on a bottle of wine, coupled with an evocative, romantic sounding name. A legend was born.
Thirty years later, according to Moet Hennessy CEO, Jean-Guillaume Prats, Cloudy Bay is exported to 120 countries and is better known than many of the classified growths of his home, Bordeaux. "And it sells for twice the price of other volume Marlborough sauvignon blanc producers in export markets," he boasts.
Phillip Neal's father was a returned serviceman when he bought land in Marlborough, named it Motukawa Farm, and grew peas, corn, beans and farmed sheep. In 1980, the wine company Corban's (tastings) came to Marlborough looking for farmers to plant vines and grow grapes for them. The Neals were one of three growers they chose.
At the time, the Neals had eight hectares of muller thurgau, once the staple grape for New Zealand white wine and today almost non-existent. Sauvignon blanc replaced it, but no-one could have predicted that in the '80s.
Lots were drawn. One grower drew riesling, one drew chenin blanc, and the Neals drew sauvignon blanc. They had no idea whether this was good or bad. Initially, they felt short-changed, as both the other varieties out-yielded sauvignon blanc. "Then one hot day in March we were out in the vineyard training vines," says Phillip, "and the vines were just six months old and not yet cropping – and we found one solitary bunch of golden coloured grapes. We tasted them, and we were blown away by the flavour!"
When the first crop arrived, Corban's trucked the fruit to Auckland, where all the major wineries were then located, and Kevin Judd got his hands on some and made it for Selak's. In 1981, things were moving quickly, and the next year Corban's offered $1 million for Motukawa Farm, but Phillip's father refused it.
"Juddy had been to Roseworthy College and was a trained winemaker, he'd improved the standard at Selak's, and it didn't take much encouragement to get him down here in 1985."
The eight hectares of Neals' sauvignon blanc were four to five years old by then and the Neals looked at what was happening next door at the Cloudy Bay site on Jackson's Road. "My father thought 'This company has invested in Marlborough; they're putting money into the area'. We liked David Hohnen: we were impressed by his no-bullshit attitude. You knew where you stood with him. And so we've always been a Cloudy Bay grower. We now have 50 hectares of producing vines, and we normally make the cut for the Cloudy Bay sauvignon blanc. We also grow chardonnay but we sell that to another company. We sell all our sauvignon blanc to Cloudy Bay. We're planting another 10 hectares this year and 10 more next year." And they're paid handsomely above the going rate.
As an indication of how highly regarded Cloudy Bay is, the 30th anniversary was attended by Jean-Guillaume Prats, who made the trip from Paris; the French ambassador to New Zealand, Florence Jeanblanc-Risler; the New Zealand Minister for Trade, Tim Groser; the CEO of New Zealand Winegrowers, Philip Gregan; former consultant to Moet Hennessy, Dr Tony Jordan, and the winemaker at Burgundy estate Domaine des Lambrays (tastings), Thierry Brouin, who had come to see the vintage at Cloudy Bay. Domaine des Lambrays is also owned by Moet Hennessy.
The Cloudy Bay wines are, I believe, better than ever at the moment and the winemaking and vineyard team are very strong. The 2014 vintage of the sauvignon blanc (tastings) is one of the best ever, and the barrel-fermented version, Te Koko (tastings), has been re-focused since the 2011 vintage as a finer, less overt, less manipulated style with more subtlety and drinkability. The pinot noirs are a work in progress but the regular Marlborough wine is good and the Central Otago wine, Te Wahi, is excellent, especially the next release, 2013 (tastings).
The bay may be cloudy, but the sun is truly shining on this winery.
---
First published in Sydney Morning Herald, Good Food – 21 Apr 2015.