New releases – Hickinbotham Clarendon Estate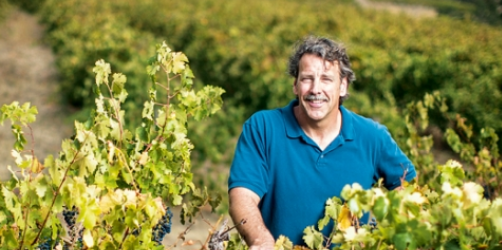 Jackson Family Wine Estates winemaker Chris Carpenter (pictured) loves the traditional Aussie cabernet shiraz blend. Napa Valley-based Carpenter has been in Australia recently to help vinify his fourth vintage of grapes from the Jackson-owned Hickinbotham Clarendon Estate (tastings) in the McLaren Vale high country.
The first wines released since the Jackson takeover, four 2012 reds released last year, were capped by a cabernet shiraz blend. It's called The Peake (tasting), and sells for $150. The other three wines are a merlot (tastings), shiraz (tastings) and cabernet sauvignon (tastings) at $75 each. All are startlingly good wines, but The Peake is extra special. The name seems apt, but it's actually named after Sir Edward Peake, founder of Clarendon.
I caught up with Carpenter in Sydney recently and had a pre-release tasting of the 2013s. They seem pretty close to as good as the 2012s, and again I rated The Peake cabernet shiraz tops (tasting), closely followed by the pure shiraz (tasting). At 1500 cases, the shiraz is easily the largest volume of the four, and is entirely the responsibility of Charlie Seppelt, the senior winemaker at Hickinbotham and its sister winery Yangarra Estate (tastings). Once a year in July, Seppelt and Carpenter meet to determine the blend for The Peake. The 2013 is 57% cabernet sauvignon, 43% shiraz.
"I just love the combination of cabernet and shiraz," says Carpenter. "This wine is the top of the inventory for both of us. In California, we are missing the boat (by not blending cabernet and shiraz)," he adds, "although in 2011 a few wineries have beefed up their cabernet with some syrah."
The 2013 The Peake is a dense, powerful wine with marvellous fleshiness and texture. It's a wine in which neither variety dominates, or is even readily distinguishable. It's the totality that matters. "The Hickinbotham vineyard is another world," Carpenter adds. "It has similar elevation to the mountain vineyards I work with in California, but the soils are very different. The fruit potential in this vineyard is outstanding."
Fresh from pressing his 2015 reds, Carpenter told me: "The 2015 vintage has given us outstanding quality – but a small quantity. The harvest was early and concentrated. The acidity was good and high." He describes the Hickinbotham Vineyard site (which is technically in McLaren Vale but actually more similar to Adelaide Hills) as a "nether world between Adelaide Hills and McLaren Vale, where cabernet grows superbly because of the elevation, and the diurnal temperature variation which results in cool nights and warm days. Cabernet loves those conditions."
The 2013s will be released in July. My tasting notes have been posted on huonhooke.com.