LuMi
My high resolution crystal ball tells me Sydney's hamburger fetish is ready to jump the shark. I'm also forecasting a murky future for our bastard take on rootsy, greasy, cheesy, pulled, smoke-licked, Down-South Americana viddles. So here's the spice rub: what's next?
Federico Zanellato might just have the answer. Although he was raised in Padua, in Italy's Veneto region, Zanellato hasn't taken the standard Italian tour of duty. He held down jobs at those celebrated foragers of the zeitgeist, Noma in Copenhagen and Attica in Melbourne, before stepping into the head chef role at Ormeggio on the Spit at Mosman. At Ormeggio he burnished the crown of larger-than-life Lombardian chef Alessandro Pavoni and played a key role in garnering two chefs hats for the North Shore restaurant from the Sydney Morning Herald Good Food Guide.
Since crossing the bridge to LuMi, an attractive glass terrarium (formerly Ripples) on Pyrmont Harbour, he's been riffing Italian and Japanese themes to growing acclaim. He's creating dazzling flavour effects in dishes served in elegant Japanese ceramic vessels. Every dish is auditioning for prettiest-in-show. On the night we visited the dazzle wasn't only indoors as we watched Zanellato toiling in the open kitchen or at LuMi's pared-down Scandinavian-style wooden tables. It was all going on outdoors too, as a ferocious electrical storm growled around our glass sanctuary and lightning sent sparks pinging off a moored boat mast.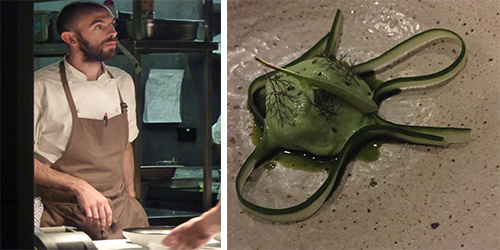 It's not easy bringing something unexpected to Sydney's – dare I say it – somewhat jaded palate; but I'm fairly sure chawanmushi on an Italian menu breaks new ground. The traditional Japanese custard is enriched with parmesan and porcini powder, served in a textural earthenware bowl. Then, stinging nettle chitarra, a rustic Abruzzese mountain pasta tossed in a very oceanic mussel cream sings with the anchovy tang of colatura di alici and fennel pollen, all studded in a restrained way with crisp crumbs of pork jowl.
It's a dish that plays a risky game dicing with some sacred regional Italian ingredients. Likewise with the spaghetti amartriciana that comes in a can. And then there's his "evergreen" pre-dessert of sorrel sorbet and lemon basil granita, minty green meringue kisses and green shiso jelly. This one is like a Sicilian dessert that got deliciously lost in Tokyo.
At every turn of the eight course degustation you get a twist: spelt ravioli, burnt butter, pumpkin, sea ­urchin and chives (who thought pumpkin and sea urchin together was so easy to love?); and milk ice cream, lemongrass and lemon myrtle and lemon juice sabayon with milk crumble, a sprinkling of cocoa powder, crowned with a sour cherry, all sitting on a swirl of salted caramel.
LuMi's wine list is another surprise. Fear not that you may be faced with too many trendy minimal intervention 'natural' wines. It's a fault of quite a few lists around town (of course Sydney's not the only offender). You can find one or two good ones here if you look but this list simply pitches for quality and class. What a blast to find old-school burgundy from Jadot rubbing shoulders with nerello mascalese grown on the blackened blasted slopes of Mount Etna
Dining options at LuMi are smart and varied, with quick four-course degustation business lunches (food and coffee in 45 minute guaranteed) a la carte and bar bites three days a week with a longer eight course degustation Sunday lunch; and an eight course degustation dinner five nights a week.
Word is already spreading fast about LuMi, so be patient if you can't get a booking for tomorrow night. This place is jumping and there's not a shark in sight.
Guy Griffin
Score: 16/20
Food: 5/5
Service: 5/5
Atmosphere: 3/5
X-Factor: 3/5
Details:
Address: 56 Pirrama Rd, Pyrmont
Phone: 9571 1999
Style: Italian with Japanese influences
Open: Lunch Thursday – Sunday noon – 2.30pm; dinner Wednesday – Sunday 6pm-10pm.
Prices: Al la carte or $55 for 4 course degustation. $95 for 8 Course degustation (Dinner Wed-Sun 6-10.30pm & Lunch Sun noon to 2.30pm); or small bites al la carte (at bar, no bookings) $4-$16