Tasmanian sweeties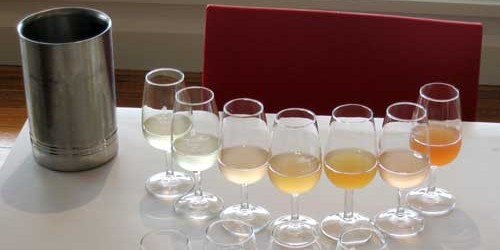 Of all the wonderful wines produced in Tasmania, sweet whites probably are the most under-sung. There are fewer of them than the dry versions, of course, and the market for sweet and semi-sweet wines is not massive. But Tasmania has the climate to produce the finest sweet wines in Australia.
They seldom reach the depths of lusciousness that we find in the Riverina, but not every occasion demands a fully sweet, sticky wine. Indeed, it could be argued that less-sweet styles are more food-friendly and have greater drinkability. They're more likely to be two-glass wines while the stickies are one-glass.
My notes on the sweet and semi-sweet classes of the 2015 Tasmanian Wine Show are now in the database, and there are some rippers. Among the semi-sweets, 2014 vintage rieslings under the Frogmore Creek FGR (tasting) and Derwent Estate Late Harvest (tasting) labels impressed, as did Pressing Matters R69 from 2011 (tastings) and 2009 (tasting) – the last being a magnificent wine and a trophy winner.
In the fully-sweet class, there tend to be two styles: those made from botrytis affected grapes and those made by the tank freezing process, known as Iced Rieslings. Milton Iced Riesling 2013 (tasting) was delicious, as was 2013 Frogmore Creek Iced Riesling (tasting) and – for something completely different – 2013 Bream Creek Late Picked Schonberger (tasting): a fragrant, muscat-scented, delicate wine made from a grape barely known in Australia.
The remainder of my tasting notes from the show, including all of the sparkling wines, and the 2012-and-older chardonnays and dry rieslings, have been uploaded to the app.