Fiona Hall to represent Australia at Venice Biennale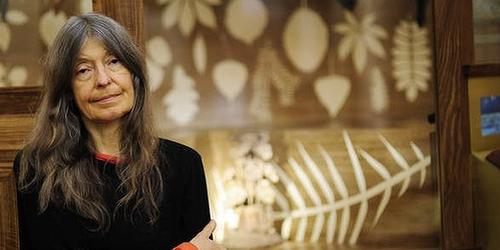 I'm so pleased Adelaide artist Fiona Hall (pictured) is to represent Australia at the Venice Biennale next month. Pleased, because Hall is a genuine artist, making real art.The Venice Biennale before last, Australia sent Hany Armanious – he of the massive blue milk-crate – who mostly makes rubbish, the way I see it. And I'm fired up about bad art because the National Gallery of Victoria purchased a bad Tracey Emin (tautology alert: all Emin's art that I've seen is bad). It's a simple neon sign which reads The Passion of Your Smile (that's also the title). I couldn't give a toss that the script is in her own hand-writing, or that George Clooney inspired it: it's just a sterile neon sign with a vacuous message.Tracey Emin is a ridiculously famous UK artist whose output (I refuse to call it work) is more about the name, the brand, the fame of the person, and the PR job than about anything interesting to look at. Art has to have intrinsic value to be worthwhile. And I don't mean monetary value. Any artwork should be able to stand or fall on its merits. If it can't be understood without a manifesto, it's nothing. When you strip away all the distracting layers, the hysteria of publicists, the ramping by vested interests, you must be left with something that communicates meaning. At the least it should be pleasing to the eye. But there are a lot of emperors out there without any clothes on, surrounded by sycophants telling them how fine their new robes are.

Fiona Hall's work is great because it communicates – with a vengeance. Her themes are environmental degradation, the rapaciousness of capitalism, the brutality of humankind. Her sculptural objects are on a human scale and they're hand-made. She is the real deal. The concerns that she wants to talk about in her art are serious and un-funny, but like the flower that attracts the bee with its beauty in order to get the real job of pollination done (Hall's own analogy), her objects are attractive and often beautiful. Behind the visual appeal lies an intelligently conceived idea.In an art world which seems increasingly obsessed with rubbishy and ephemeral art, Hall restores one's faith: it is still possible to be a great – even international – artist using nothing much more than one's own thoughtful mind and skilled hands.