French champagne makers showcase bubbly in Sydney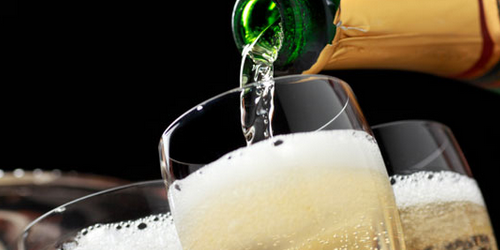 Melbourne-based wine importer Bibendum recently staged a tasting unlike any other. Entitled "Dots and Bubbles", it was a mini-exhibition of Champagnes from six small houses including two of the rarest and most extraordinary, Jacques Selosse and Jerome Prevost – and the winemaker/proprietors themselves were there, pouring their wines. It has to be said that people like Anselme Selosse and Jerome Prevost are seldom seen, and for Bibendum to persuade them to travel to Australia and conduct exhibitions in Sydney and Melbourne was extraordinary. The bad news is that it was for the trade only – although substantial numbers took advantage of the opportunity.
Three of the other attendees, Larmandier-Bernier, Egly-Ouriet and Jacquesson, are also justly famous producers. The sixth, Roger Coulon, was new to me, and I thought, not in the same league, although interesting.
Adding further appeal to what was already a compelling wine event were the venue and by-story, which both involved Aboriginal culture. The event was held at Christopher Hodges' Utopia Art gallery, which was the first gallery to exhibit Aboriginal art in a contemporary context alongside non-Aboriginal art. Hodges had lined the walls with a pop-up exhibition of works by some of the most revered indigenous artists, including Emily Kngwarreye, Ronnie Tjampitjinpa, Yukultji Napangati and Rover Thomas.
If this wasn't enough, Aboriginal author and historian Bruce Pascoe was present, relating stories from his new book "Dark Emu; Black Seeds: Agriculture or Accident" (Magabala Books; $35). The book's main thesis is the claim that the Australian Aborigines were Earth's first agriculturalists. This claim flies in the face of most written history, which states that the first Australians were strictly hunter-gatherers. It's startling news to most of us.
The message from the organiser, Bibendum founder Robert Walters, was clear: there's a link between the artisanal Champagne producers and the first Australians – they shared a benign and sustainable relationship to the land they work. They see themselves as temporary custodians rather than owners. The word 'pangkarra' was used – a word first used in relation to wine by Clare Valley winemaker Jeffrey Grosset several years ago. Grosset asserted the Aboriginal word carried similar meaning to the French word 'terroir'.
Whether or not you think the organisers were drawing a long bow in associating Champagne with Aboriginal culture doesn't matter. Bibendum did something truly interesting, bringing these winemakers to Australia and giving Pascoe a platform from which to broadcast his fascinating story.
Walters, who imports the first three producers listed below, describes them as 'artisanal'. They work especially closely with their vines and their land, they use sustainable methods of viticulture, and they grow most of their grapes themselves – thereby exerting more control over yields and quality.
The six Champagnes
Egly-Ouriet
A pinot noir specialist based in Ambonnay on the Montagne de Reims, source of the greatest pinot noir. Site-specific wines made with low yields, no fining or filtration, low dosage (sweetening), and low sulfur levels. No artificial fertilisers, pesticides, herbicides or chemical fungicides.
The wine to buy: Brut Tradition Grand Cru NV (non-vintage) (tastings)
Larmandier-Bernier
A blanc de blancs (pure chardonnay) specialist based in Vertus on the Cote des Blancs. The same could be said for Larmandier as for Egly, but working with different grapes in a different region. Pierre Larmandier is a fastidious and highly respected winemaker, whose vineyards are certified biodynamic. Dosage very low or zero.
The wine to buy: Longitude Extra Brut Blanc de Blancs NV (tastings)
Jérome Prevost
A cult producer, relatively new, and a disciple of Anselme Selosse, making dry wines with low sulfur levels off a single small vineyard at Gueux, on the edge of the Montagne de Reims. The two-hectare plot of 40-year-old pinot meunier is Champagne like you've never tasted: difficult to describe and impossible to score. Tiny output of very rare and keenly-sought wines.
The wine to buy: Anything you can find (tastings)
Jacques Selosse
Run by Anselme Selosse, one of the charismatic gurus of 'grower' Champagne. Chemical-free viticulture is practised and all wines are fermented in oak, some of it new. The very low yields and high ripeness result in powerful, concentrated, full-bodied, non-malolactic wines which are atypical of most Champagne. Most are blanc de blancs, produced with low dosage, low sulfur and some of the wines are aged in a solera system, all of which can result in an extreme, oxidative style. At their best, they're exciting wines which challenge our idea of what Champagne is.
The wine to buy: Les Carelles Mesnil-sur-Oger NV (tastings)
Jacquesson
Based in Dizy in the Marne Valley, near Epernay, Jacquesson is owned and managed by the Chiquet brothers Laurent and Jean-Hervé. Organic farming is practised, some wines are barrel fermented, and very low dosage levels are used. Each non-vintage cuvée is numbered with three figures (e.g. Cuvée No. 738 – tastings) and some are re-released with extra tirage age as 'DT' (dégorgement tardif, or late disgorged) wines.
The wine to buy: Dizy Corne Bautray 2005 (tastings)
Roger Coulon
This producer is new to Australia. Low yields, fermentation with wild yeasts, minimal sulfur, and environmentally caring viticulture. Reserve wines are aged in small barrels. His Cuvée Heritage (tastings), produced with low dosage and low gas pressure (4 to 4.5 atmospheres rather than 6) is an oxidative style.
The wine to buy: Brut Millesime Blanc de Noirs 2006 (tastings)
---
First published in Sydney Morning Herald, Good Food – 7 Apr 2015.