Vinery Foods Annandale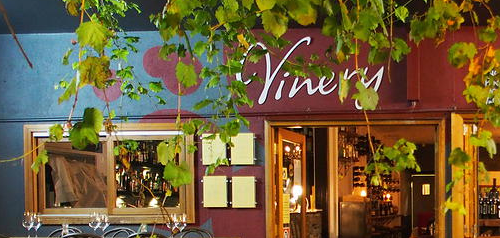 A wine bar is only as good as its front-person. And, at Vinery Foods in Annandale, Joe Moussa is a fine front-man.
Annandale, in Sydney's Inner West, has a small but growing shopping centre with a real community atmosphere. A couple of doors from Vinery Foods are Annandale Cellars, one of Sydney's best independent liquor stores, and Fat Fish, one of our better takeaway fish and chipperies.
Vinery Foods opens onto the somewhat noisy intersection of Booth Street with Johnson Street, Annandale's main drag. You can sit inside, on the footpath under the shady vine on its overhead pergola. Joe Moussa will bring you a menu crammed with dishes you'll really want to eat, and a wine list that is similarly inviting. It is a wine bar, so there's an extensive wine list with lots of interesting drops and if you're all at sea, Moussa is helpful and knowledgeable.
Also in keeping with the style of the place, the food is tapas-like, with small, tasty, shareable dishes, such as duck liver pate, country-style pork terrine with cornichons, delicious beetroot salad with goat's cheese, heirloom carrots, (all entrees between $17 and $18), mains such as melt-in-mouth, slow-cooked pressed lamb shoulder with eggplant, cumin labneh, mint and za-atar ($28), and more. Side-dishes such as Lebanese-style cauliflower and mixed leaf salad with anchovies are $9 each. There's a notable Lebanese influence in the menu although its overall tone is 'modern Australian'.
On previous visits I'd enjoyed the kingfish ceviche with ruby grapefruit, lemon, corn, coriander and cucumber, and the squid ink fettucine with Balmain bug meat. And not to forget the Wallis Lake oysters with red-wine granita. In three visits, I can't fault the food.
A warm summery Saturday afternoon called for chilled rosé: Joe's recommendation of Longline Bimini Twist Grenache Rosé 2014 ($48) from Wirra Wirra winemaker Paul Carpenter, was spot-on. A glass of 2010 Provenance Shiraz ($14) sealed the meal.
Vinery Foods is in my stamping-ground, and I'll definitely be back. Every neighbourhood wine bar should be this good.
www.vineryfoods.com.au